The Paradox About the Body in the Film 'Imperfect'
Muria Endah Sokowati

Universitas Muhammadiyah Yogyakarta
Keywords:
Body Shaming, Imperfection, Politics of Representation, Ciswashing, Film Studies
Abstract
Imperfect: Karir, Cinta dan Timbangan (2019), a film directed by Ernest Prakasa, is successful in reaching the box office, with an attracting audience of more than 2 million. This film is an adaptation of a novel with the same title written by Meira Anastasia and Ernest Prakasa. This film has the potential to educate the audience about the body and the dangers of body shaming, but eventually, it just gets back to mere commercialization. Instead of changing the mindset, what is happening is precisely upholding today's beauty standards.
References
Ahimsa, R. (2019, December 19). Review Film Imperfect: Penyampaian Pesan yang Mengena Melalui Komedi [Imperfect Film Review: Submitting Messages through Comedy]. IDNTimes. https://jogja.idntimes.com/hype/entertainment/rijalu-ahimsa-1/review-film-imperfect-penyampaian-pesan-yang-mengena-melalui-komedi
Andrist, L. (2015, February 22). What is Whitewashing and why does it Matter? The Sociological Cinema. https://www.thesociologicalcinema.com/blog/what-is-whitewashing
Appenroth, M. N. (2015, September 27). The Ciswashing of the Stonewall Riots – Why Trans* Activists Can't be Heroes. Academia. https://www.academia.edu/16241721/The_cis-washing_of_the_Stonewall_Riots_Why_trans_activists_can_t_be_heroes
Bagwell, M. (2018, July 14). Scarlett Johansson Responds To 'Ciswashing' Criticism After Being Cast As A Transgender Man In 'Rub And Tug'. Huffington Post. https://www.huffingtonpost.co.uk/entry/scarlett-johansson-transgender-man-rub-and-tug-criticism-response_uk
Sembiring, I. G. N. (2019, December 19). Review Imperfect: Surat Cinta Bagi Mereka yang Dipandang Tak Sempurna [Imperfect Review: Love Letters for Those Who Viewed as Imperfect]. Kompas.com. https://www.kompas.com/hype/read/2019/12/19/180500866/review-imperfect--surat-cinta-bagi-mereka-yang-dipandang-tak-sempurna?page=all
Sari, A. T. Y. (2019, November 10). Jessica Milla Terpengaruh Mentalnya Tampil Gemuk di Film Terbaru. [Jessica Milla Mental Affected in the Latest Film]. Liputan6. https://www.liputan6.com/showbiz/read/4106744/jessica-mila-terpengaruh-mentalnya-tampil-gemuk-di-film-terbaru?medium=Headline&campaign=Headline_click_1
Tierney, D. (2017, September 11). From Breakfast at Tiffany's to Hellboy: The ongoing problem of Hollywood 'whitewashing'. Independent. https://www.independent.co.uk/arts-entertainment/films/features/breakfast-at-tiffany-hellboy-hollywood-whitewashing-a7932581.html
Vogel, J. (2018). The Confessions of Quentin Tarantino: Whitewashing Slave Rebellion in Django Unchained. The Journal of American Culture, 41(1), 17-27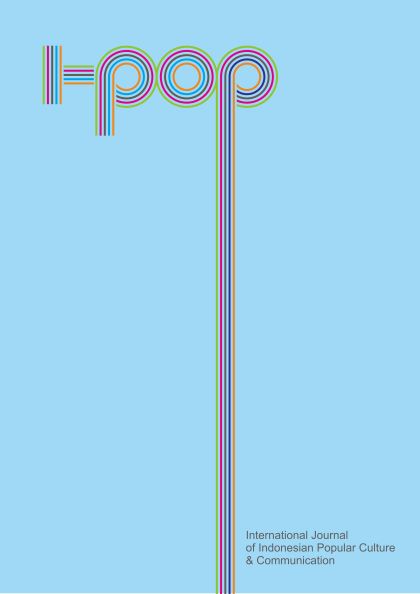 How to Cite
Sokowati, M. E. (2020). The Paradox About the Body in the Film 'Imperfect'. I-Pop: International Journal of Indonesian Popular Culture and Communication, 1(1), 63-66. https://doi.org/10.36782/i-pop.v1i1.1
Copyright (c) 2020 I-Pop: International Journal of Indonesian Popular Culture and Communication
This work is licensed under a Creative Commons Attribution-NonCommercial-ShareAlike 4.0 International License.