Representation of Christianity in 'Farcry 5'
Jusuf Ariz Wahyuono

Department of Communication Science, Faculty of Social and Political Science, Universitas Gadjah Mada
Keywords:
Religious representation, religious symbol, religion, popular game, game studies
Abstract
Farcry 5 is a popular game in Indonesia and a 2018 first-person shooter game developed and published by Ubisoft. This game uses many symbols in the Christianity religion. Reading this game is crucial knowing that Indonesia has one of the largest concentrations of Christianity in the Muslim world. Using semiotic text-based analysis, we observed how this game represents religion using the structure of religious teachings in the Christianity tradition through symbols in the depiction of characters and narrative plots. The study focuses on Joseph Seed's character and its environment. Joseph Seed is described as a Father, has a Bible, is part of a militia group, and a figure who has the qualities of a prophet. In the Storyline, Joseph Seed was shown as the one who receives the revelation, has Prophecy, and makes sacrifices. As Indonesia is a multicultural country, understanding religious representation in media is important. There are also fewer studies and concerns in popular media, especially in video games, despite its widely accessible content across Indonesia. This game received commercial success and became the fastest-selling title in the franchise, grossing over $310 million in its first week of sales.
References
Bianchini, R. (2019, November 01). The Last Supper by Leonardo da Vinci –. "Santa Maria delle Grazie – Milan". Inexhibit. [Website]
Bosman, F. (2016). Nothing is true, everything is permitted - The portrayal of the Nizari Isma'ilis in the Assassin's Creed game series. Online: Heidelberg Journal of Religions on the Internet, 10, 6-26. [CrossRef]
Bosman, F., and Mock, L., (2016) 'We do not pray, we invent'. Jews, Judaism, and Jewish mysticism in the video game Wolfenstein. The new order. In: A. Houtman, T. Kadari, M. Poorthuis, and V. Tohar (eds.), Religious stories in transformation. Conflict, revision, and reception. Brill.
Doniger, W. (2006). Britannica Encyclopedia of World Religion. Encyclopedia Britannica
Ehrman, B. D. (2014). How Jesus Became God: The Exaltation of a Jewish Preacher from Galilee. HarperOne.
Far Cry 5 (2018). PS4 version. Ubisoft Games. [Video game].
Gyroboski, M. (2017, May 26). Anti-Christian or Anti-Cult? 'Far Cry 5' Features Gun-Toting Pastor Fighting Montana Cultists. Christian Post. [OnlineMedia]
Gereja Kristen Indonesia. (2007). Tujuh dosa yang mematikan [Seven deadly sins]. GKIPI. [Website]
Hall, S. (2003). Race, the Floating Signifier. Media Education Foundation. [GoogleScholar]
Hayes, M. (2018, May 11). Petition Calls for Ubisoft to Change Far Cry 5 Villains to Muslims or Change Setting to Canada. ComicBook. [Website]
Hermawan, A. (2009). Spiritualisme Televisi: Antara Aqidah dan Komodiflkasi. Jurnal Dakwah, 10(1), 33-52. [GoogleScholar]
Ismail, R. (2018). Konsep Wahyu Menurut Saksi-Saksi Yehuwa. Journal Religi UIN SUKA 14(1), 1-21. [CrossRef]
Lucile (2018). Joseph's tattoos and scars. Tumblr. [Website]McCutcheon, R. T. (2007). Studying Religion. An Introduction. Equinox.
New, D. S. (2012). Christian Fundamentalism in America. A Cultural History. McFarland
Philips, T. (2018, April 3). Far Cry 5 tops UK chart with the biggest launch in series' history. Eurogamer. [Website]
Syahputra, I. (2011) Rahasia Simulasi Mistik Televisi. Pustaka Pelajar.
Sarkar, S. (2017, May 24). Far Cry 5 artwork introduces us to a religious cult (update). Polygon. [OnlineMedia]
Tassi, P. (2018, March 27). 'Far Cry 5' Is Apolitical To The Point Of Absurdity. Forbes. [OnlineMedia]
University of Montreal. (2010, April 1). Leonardo Da Vinci's 'The Last Supper reveals more secrets. ScienceDaily. [OnlineMedia]
Vermes, G. (1981). Jesus the Jew: A Historian's Reading of the Gospels. First Fortress.
Weber, T. P. (2005). On the Road to Armageddon. How Evangelicals Became Israel's Best Friend. Baker Academic.
Wysocki, J. (2018). Critique with Limits—The Construction of American Religion in BioShock: Infinite. Religions, 9(5), 150. [CrossRef]
Yuwono, A. I and Wahyuono, J. A. (2016). Multikulturalisme dalam Video Game Dragon Age: Inquisition. Ettisal Journal of Communication, 1(2), 151-187. [CrossRef].
Yuwono, A. I., Simatupang, G. R. L. L. & Salam, A. (2018). Pewujudan dan penyerapan Pemain dalam Video Game [Embodiment and Immersion of Players in the Game Video]. Journal Communication Spectrum: Capturing New Perspectives in Communication, 8(1), 94-112. [CrossRef]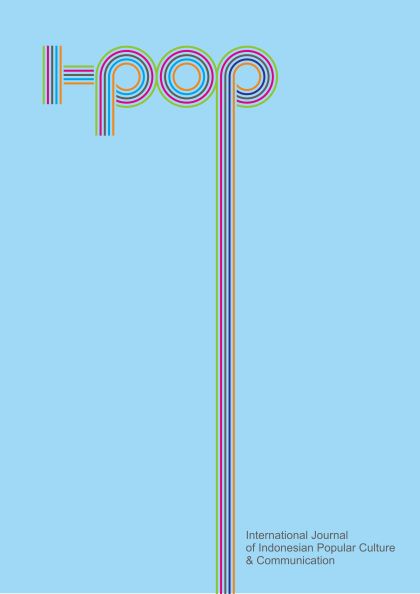 How to Cite
Wahyuono, J. A. (2020). Representation of Christianity in 'Farcry 5'. I-Pop: International Journal of Indonesian Popular Culture and Communication, 1(2), 121-129. https://doi.org/10.36782/i-pop.v1i2.58
Copyright (c) 2020 I-Pop: International Journal of Indonesian Popular Culture and Communication
This work is licensed under a Creative Commons Attribution-NonCommercial-ShareAlike 4.0 International License.