Submission Guideline

SUBMISSION GUIDELINE
1. Website Journal
When the author visits our website (https://ojs.bakrie.ac.id/index.php/IJSR) the below example picture will be shown and please go to the QUICK NAVIGATION and click "ONLINE SUBMISSION" on the left side of the website.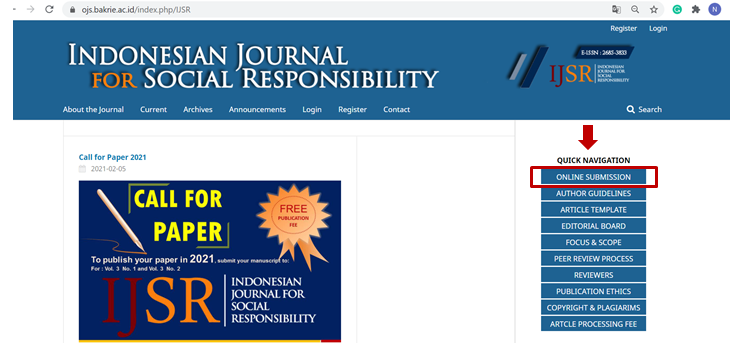 2. Registration of Journal Account
After clicking the "ONLINE SUBMISSION", the author will be directed to log in or register for a new account. If the author does not have a journal account, please click "register" to make your account.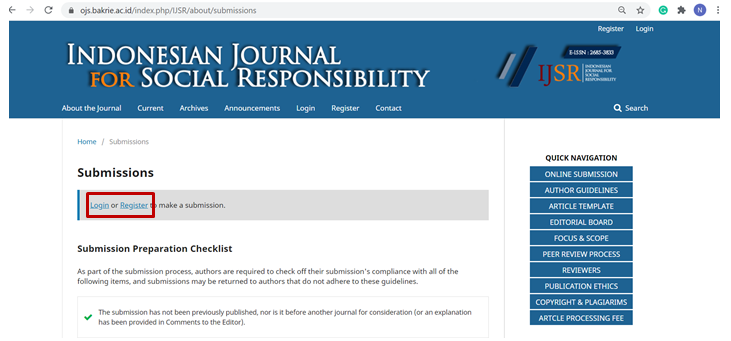 For the registration process, some information should be provided in the form, including First Name, Last Name, Affiliation, Country, Email, User Name, Password, and Confirm Password and then click the "Register" button.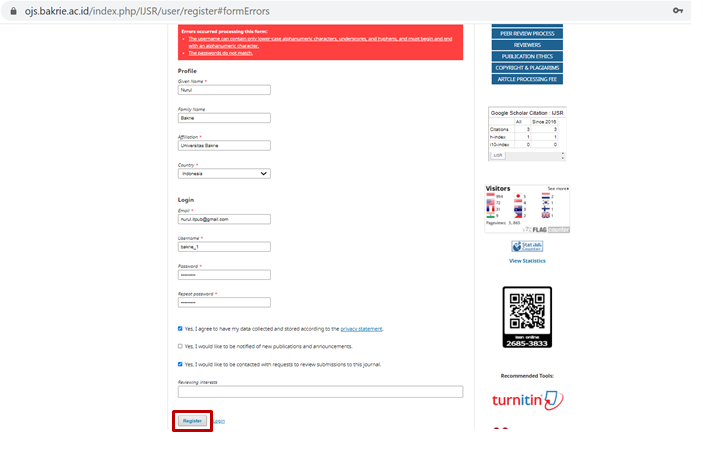 3. Submission Process
If the author has been completed the registration process and log in to the journal system, the view of the dashboard will be shown as an example picture below. When the author wants to start the submission process, please click the "Make a New Submission".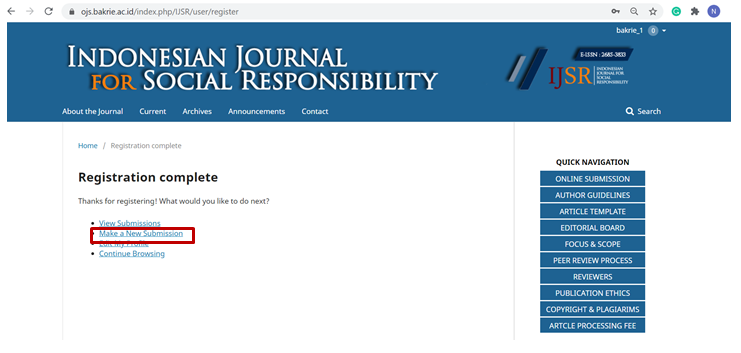 4. Guideline For Submission
To begin with the submission process, the author should read carefully about the provisions that we provide, as an example picture below. First, the author has to select Submission Language and Section. After that, make sure that you already prepare some of the Submission Requirements. Make sure to tick all Submission Requirements, Corresponding Contact and Acknowledge the copyright statement as shown in the picture and click "Save and Continue"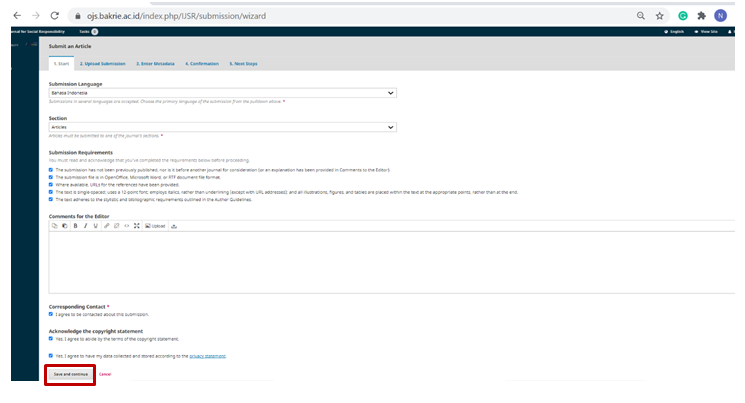 You will be directed to the next step (Upload Submission File). Firstly, you have to click "Upload File" and Select Type of Article Component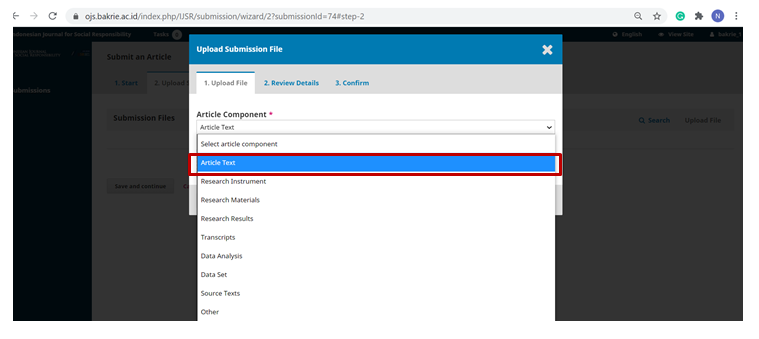 Then, click "Upload File"

After uploading the file has been completed, click "Continue"

The Second step is Review Details, in this step you just have to click "Continue"

The last step is Confirm. This step is needed if you have a supplement file to support your manuscript. You can click "Add Another File" and upload your supplement file. If not, just click "Complete"

After the submission file has been successfully uploaded and completed, click "Save and continue"

The next step is "Enter Metadata" including Title, Abstract, List of Contributors, Keywords, and References. Please fill in the metadata as written in your manuscript as shown in the picture below.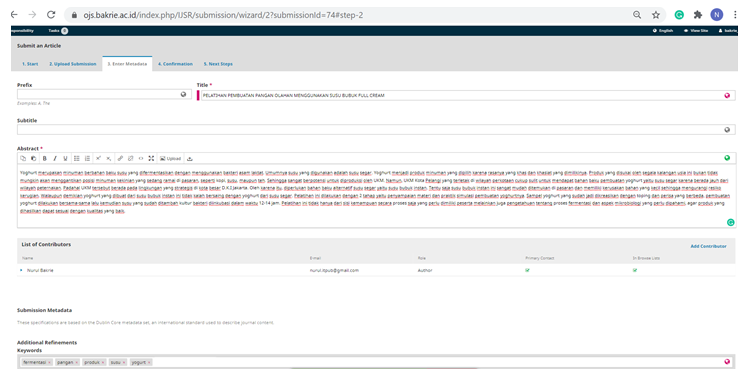 If the authors of the manuscript more than one person, click "Add Contributor". After completing the data click "Save"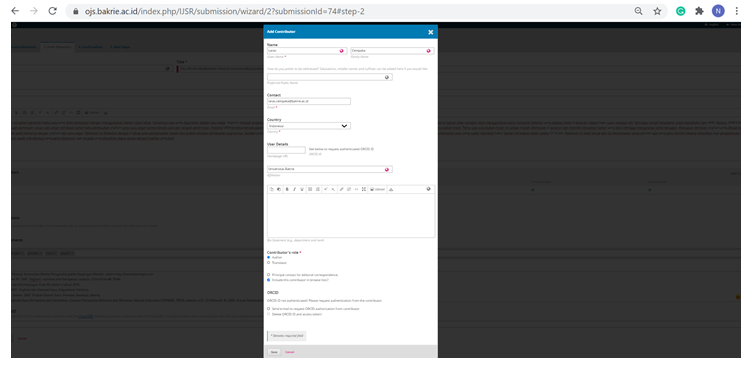 Make sure to fill the keywords alphabetically keyword (one by one) and entry references and then click "Save and continue"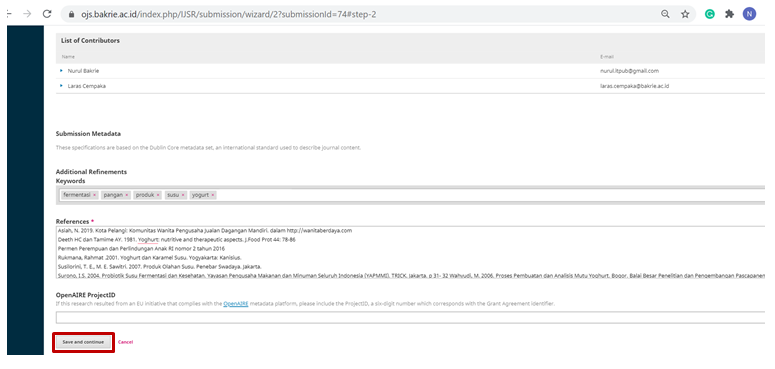 The next step is Confirmation. In this step, your submission has been uploaded and is ready to be sent. You may go back to review and adjust any of the information you have entered before continuing. When you are ready, click "Finish Submission" and then click "OK"

Finally, you are in the last step of submission and you can review the status of your manuscript by click "Review this submission"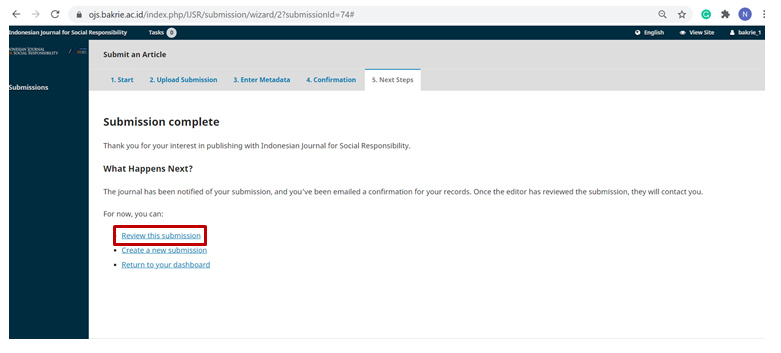 To ensure that your manuscript has been successfully submitted, you can check your email. The system will send an email notification as shown in the image below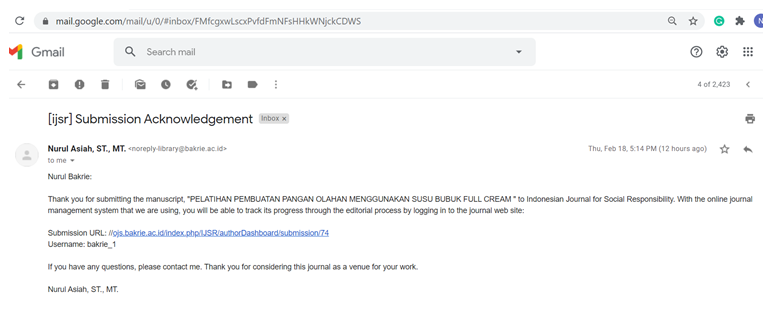 This manual guidebook is created to help the authors with the submission process. If you still have any difficulties or any questions please feel free to contact us via ijsr@bakrie.ac.id