Kegiatan Pembuatan Komposting Padat dengan Proses Fermentasi di Desa Cianting Utara Kabupaten Purwakarta
Azafilmi Hakiim

Universitas SIngaperbangsa Karawang

Ulinnuha Latifa

Universitas Singaperbangsa

Cintiya Septa Hasannah

Universitas Singaperbangsa

Dessy Agustina Sari

Universitas Singaperbangsa
Keywords:
anaerobes, composting, fermentors, organic, waste
Abstract
Waste is an impurity that has no reuse value from daily human activities in both the domestic and industrial environments. One focus of the service team in this case is organic waste sourced from the domestic environment (household) by composting. The purpose of this community service activity is to create independence for the residents of Cianting Utara village in terms of organic waste management. The methodology of implementation is carried out through five stages namely identification of problems (Partner Village), compilation of organic waste management program activities, making solid composting, implementing program activities, evaluating program activities.Solid composting is done by making fermentors anaerobically, mixing composting media, and mixing household organic waste. The results of the solid composting harvest are then implemented on the tomato vegetable plant and observed. The results of the fertility level are shown based on the average length parameter 24 days maintenance 14.5 cm per plant and the number of leaves 9-15 per plant. A total of 15 respondents gave an assessment of the form distributed showing a 98% satisfaction percentage of the indicators of goal delivery, communication of material delivery, practice implementation, and question and answer knowledge. The highest indicator in the delivery of material and the implementation of questions and answers.
Downloads
Download data is not yet available.
References
Banowati, E. (2011). Pengelolaan Sampah Berbasis Komunitas Untuk Konservasi Lingkungan. Laporan Penelitian. LP2M Unnes: Semarang.
Dias. P.L. (2009). Fasilitas Pengolahan Sampah di TPA Jatibarang. Tugas Akhir. Fakutas Teknik Jurusan Arsitektur Universitas Diponegoro: Semarang.
Sutrisno, E. & Priyambada, I.B. (2019). Pembuatan Kompos Padat Limbah Kotoran Sapi dengan Metode Fermentasi Menggunakan Bioaktivator Stabio di Desa Ujung-Ujung Kecamatan Pabelan Kabupaten Semarang, Jurnal Pasopati, 1(2).
Marfuatun. (2013). Potensi Pemanfaatan Sampah Organik. Yogyakarta: Jurusan Pendidikan Kimia Universitas Negeri Yogyakarta.
Mehl, J. A., (2008). Pathogen Destruction and Anaerobic Decomposition in Composting Latrines: A Study from Rural Panama. Michgan Technological University
Purwasasmita, M. & Kurnia, K. (2009). Mikroorganisme Lokal sebagai Pemicu Siklus Kehidupan dalam Bioreaktor Tanaman. Seminar Nasional Teknik Kimia Indonesia SNTKI, Bandung.
Sony, (2008). Workshop on Community Based Solid Waste Management in Indonesia. Makalah, Jakarta: 16-17 Januari 2008. Balai Kartini.
Sutari, N.W.S. (2009). Pengujian Kualitas Bio Urine Hasil Fermentasi Dengan Mikroba yang Berasal dari Bahan Tanaman terhadap Pertumbuhan dan Hasil Tanaman Sawi (Brassica JunceaL). Tesis. Program Pasca Sarjana Universitas Udayana: Denpasar.
Usman, Khuzzaman., Henita, Rahamayana., Amos Neolaka. Pengelolaan Sampah dengan Modifikasi Sanitary Landfill. Jurnal Menara, 8(1).
Walidaini, R.A., Nugraha, W.D., Samudro, G. (2016). Pengaruh Penambahan Pupuk Urea dalam Pengomposan Sampah Organik secara Aerobik menjadi Kompos Matang dan Stabil Diperkaya. Semarang: Universitas Diponegoro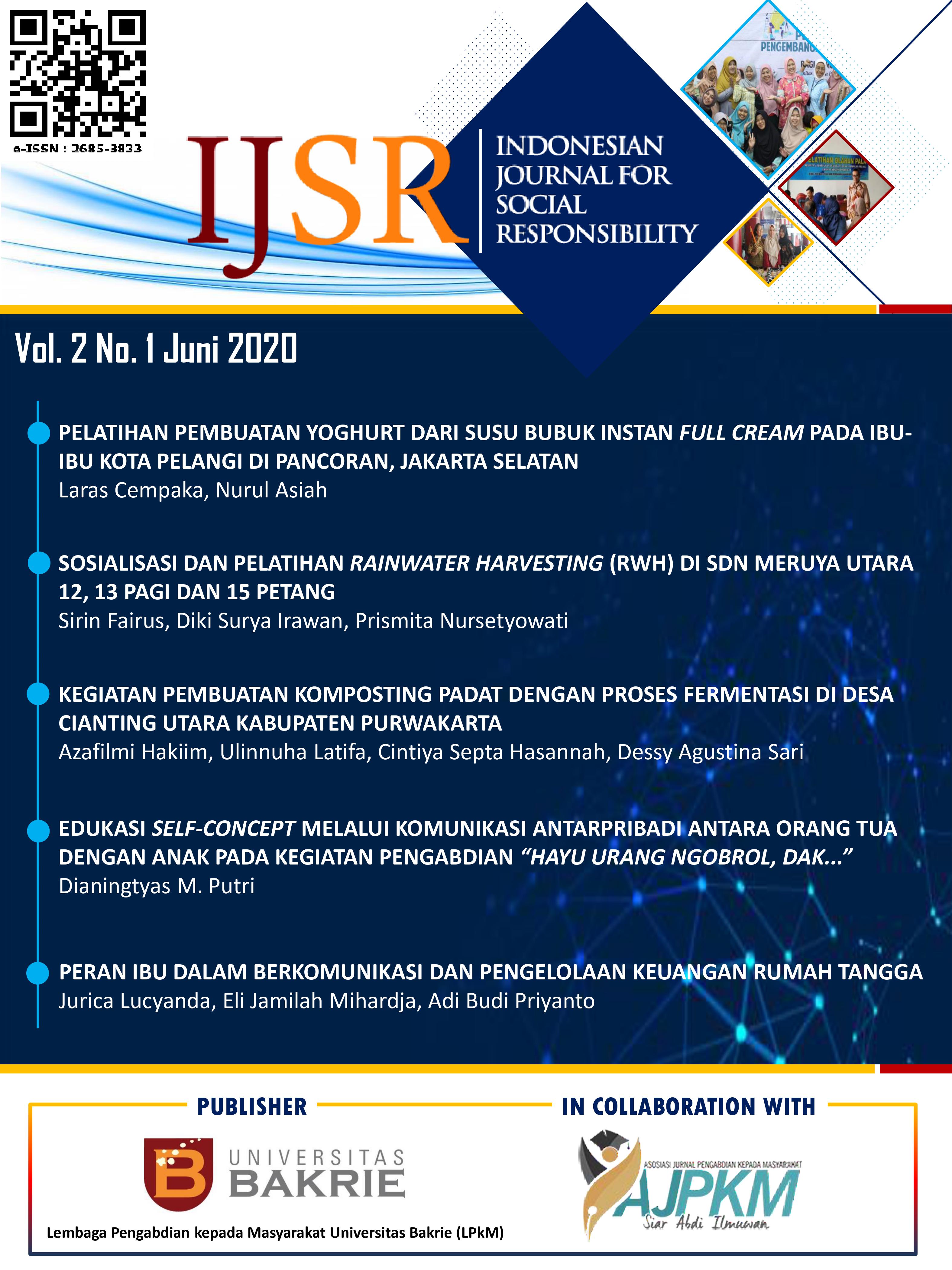 How to Cite
Hakiim, A., Latifa, U., Septa Hasannah, C., & Agustina Sari, D. (2020). Kegiatan Pembuatan Komposting Padat dengan Proses Fermentasi di Desa Cianting Utara Kabupaten Purwakarta . Indonesian Journal for Social Responsibility, 2(1), 21-28. https://doi.org/10.36782/ijsr.v2i1.32