Pemanfaatan Teknologi Biopori untuk Pembuangan Sampah Organik dan Pencegahan Banjir di Kelurahan Menteng Atas
Wijaya Adidarma

Bakrie University

Tri Susanto

Bakrie University

Diki Surya Irawan

Bakrie University
Keywords:
flood, organic waste, biopori, compost
Abstract
Floods that hit parts of Jakarta today, due to human negligence in paying attention to the environment. Human activities by building buildings or other facilities without taking into account the open land area causes the rainwater catchment area to decrease. Likewise also the disposal of garbage in rivers or gutters that are not in place, so that water can not flow smoothly, which in turn results in an overflow of water. Therefore, it takes the making of biopori infiltration holes (LRB), where the main ingredient is organic waste. The LRB functions to absorb water into the soil and organic waste planted in holes can be used to make compost. LRB does not require a large area, and the manufacturing process is straightforward, this is undoubtedly the right solution for areas with narrow open land. However, this appropriate technology must be accompanied by community care to want to sort waste and treat LRB. Community care to preserve nature is the primary key to flood prevention.
Downloads
Download data is not yet available.
References
Barej, J.A.M., Patzold, S., Perkons, U., dan Amelung, W. 2014. Phosphorus fractions in bulk subsoil and its biopore systems. European Journal of Soil Science, 65: 553–561.
Bauke S.L., Sperber, C. V., Seibers, N., Tamburini, F., dan Amelung, W. 2017. Biopore effects on phosphorus biogeochemistry in subsoils. Soil Biology and Chemistry, 111: 157–165.
Brata, K.R. dan Nelistya, A. 2008. Lubang Resapan Biopori. Jakarta: Penebar Swadaya.
Gaiser, T., Perkons, U., Küpper, P.M., Kautz, T., Uteau-Puschmann, D., Ewert, F., Enders, A., dan Krauss, G. 2013. Modeling Biopore Effects on Root Growth and Biomass Production on Soils With Pronounced Sub-Soil Clay Accumulation. Ecological Modelling, 256: 6–15.
Ginting, R. B. 2010. Laju Resapan Air pada Berbagai Jenis Tanah dan Berat Jerami dengan menerapkan Teknologi Biopori di Kecamatan Medan Amplas. Tesis. Program Studi Pengelolaan Sumber Daya Alam dan Lingkungan. Sekolah Pasca Sarjana. Medan: USU
Karuniastuti, N. 2013. Teknologi Biopori Untuk Mengurangi Banjir dan Tumpukan Sampah Organik. Forum Teknologi, 4(2): 60–68.
Kautz, T., Amelung, W., Ewert, F., Gaiser, T., Horn, R., Jahn, R., Javaux, M., Kemna, A., Kuzyakov, Y., Munch, J.eC., P€atzold, S., Peth, S., Scherer, H.W., Schloter, M., Schneider, H., Vanderborght, J., Vetterlein, D., Walter, A., Wiesenberg, G.L., dan Kopke, U. 2013. Nutrient Acquisition from Arable Subsoils in Temperate Climates. Soil Biology and Biochemistry, 57: 1003–1022.
Kuzyakov, Y. dan Blagodatskaya, E. 2015. Microbial Hotspots and Hot Moments in Soil: Concept & Review. Soil Biology and Biochemistry, 83: 184 – 199.
McKenzie, B.M., Bengough, A.G., Hallett, P.D., Thomas, W., Forster, B., dan McNicol, J.W. 2009. Deep Rooting and Drought Screening of Cereal Crops: A Novel Field-Based Method and Its Application. Field Crops Research, 112: 165–171.
Logsdon, S.D. dan Linden, D.R. 1992. Interactions of Earthworms With Soil Physical Conditions Influencing Plant Growth. Soil Science, 154(4): 330–337.
Passioura, J. B. 1991. Soil Structure and Plant Growth. Australian Journal of Soil Research, 29(6): 717–728.
Passioura, J.B. 2002. Soil Conditions and Plant Growth. Plant, Cell and Environment, 25: 311–318.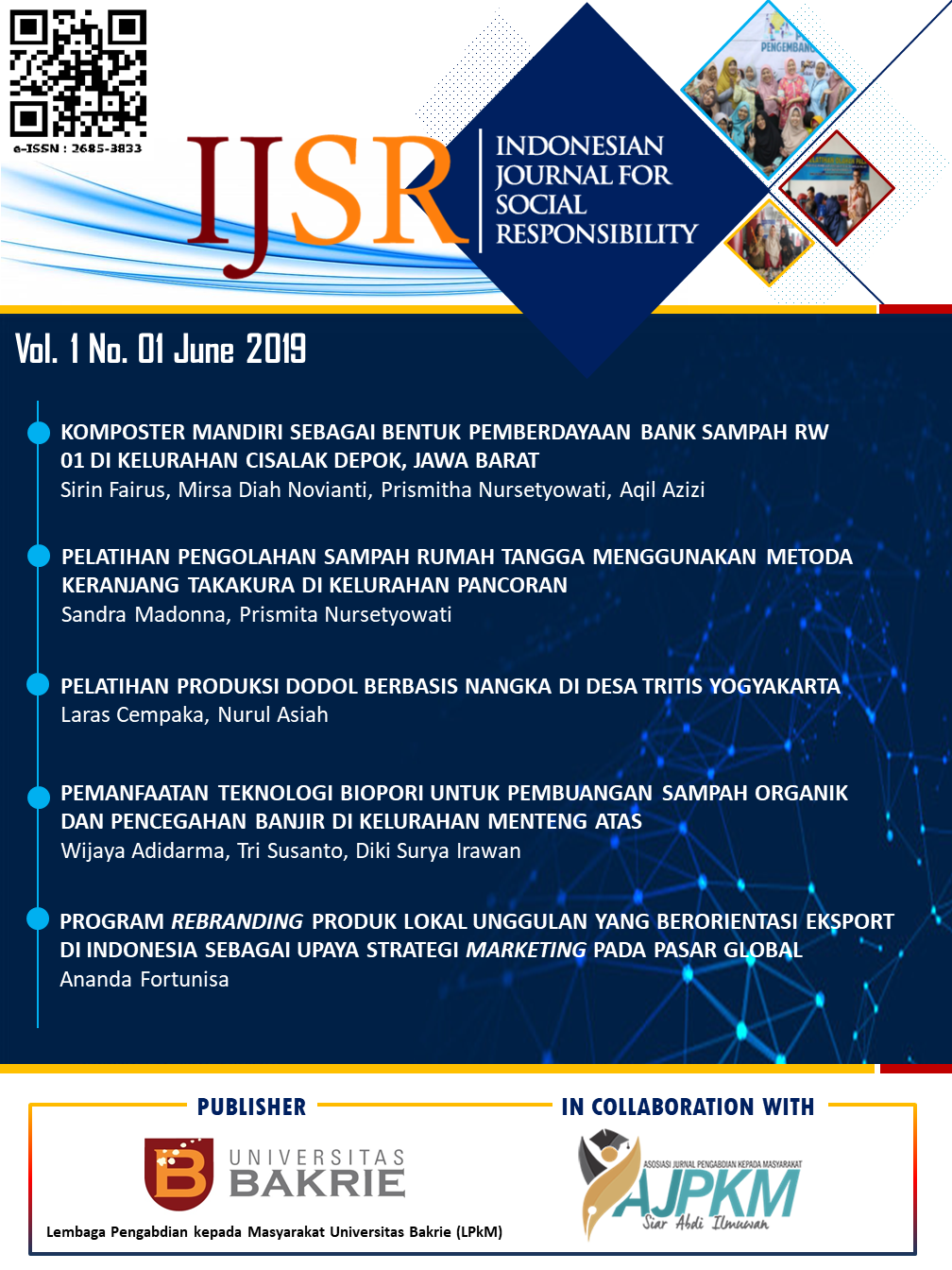 How to Cite
Adidarma, W., Susanto, T., & Surya Irawan, D. (2019). Pemanfaatan Teknologi Biopori untuk Pembuangan Sampah Organik dan Pencegahan Banjir di Kelurahan Menteng Atas. Indonesian Journal for Social Responsibility, 1(01), 27-39. https://doi.org/10.36782/ijsr.v1i01.7