The Explanation of The Indices and Components of The Cafe in The Traditional and Modern Times of Iran
Farshad Hatami

Islamic Azad University Tehran-West Branch

Avideh Talaei

Islamic Azad University Tehran-West Branch
Keywords:
Architectural Space, Coffee Shop, Hominess, Social Index, Social Interaction
Abstract
Several factors affecting the cultural growth of the society are the correct function of social interaction, daily activities in the workplace, and increasing social action according to population growth rate need to be more evident. Review of past history showed the arrival of cafe culture in the Safavid era and Shah Abbas(I) and establishment of coffee houses in Qajar and Pahlavi era with social, economic and cultural function. In the first Pahlavi period, with the arrival of a new style of cafe from the west, the social approach and architectural style of the coffee house changed to a coffee shop. The young people of the society, as the audience, chose the coffee shop as a platform for social communication. In this article, we try to explain the course of physical and cultural developments of cafes and increase the benefit of young people from temporary urban social exchange centres as a third place (home, workplace and coffee shop) by interpreting the study examples of traditional and modern cafes in the period. We will pay attention to the Pahlavi, contemporary and modern West.
Downloads
Download data is not yet available.
References
Abdel, H. (2020). Café In Ujina / Igarchitects. Retrieved from https://www.archdaily.com/936601/Cafe-In-Ujina-Igarchitects?Ad_Source=Search&Ad_Medium=Search_Result_Projects
Anon. (2019). Cafe Interior Design: Top Things to Keep in Mind While Designing a Cafe. Retrieved from https://www.posist.com/restaurant-times/singapore/cafe-interior-design-tips.html
Ghaneei, M. A. (2013, May 1). From The Classic Form of Cafes [Personal Interview].
Irangard, E. (2019). The Rare Cafe in Tehran: Cracked Memories in The Nostalgic Resort Of. Retrieved from https://www.nabro.ir/naderi-cafe/
Khodabakhsh, S. & Yalve, S. (2018). Comparative Study of Social Function - The Place of Contemporary Iranian Cafes and Cafes. Legacy of Time, 8-18.
Maryam, S. (2014). Reviewing The Cognitive Document of The Coffee Houses from The Naseri Period to The End of The First Pahlavi. Tehran: Faculty of Literature and Humanities.
Mehdizadeh, J. (2010). Cafes, Parallel Fields and The Strengthening of The Public Sphere. Retrieved from https://donya-e-eqtesad.com/
Ota, T. (2016). Coffee Shop, Interiors Architecture. Retrieved from https://www.archdaily.com/796596/Blue-Bottle-Coffee-Roppongi-Cafe-Schemata-Architects?Ad_Source=Search&Ad_Medium=Search_Result_All
Pozos, R. K. (2015). Coffee Shops: Exploring Urban Sociability and Social Class in The Intersection of Public and Private Space [Thesis]. Department of Anthropology Stanford University, United States.
Salehnejad, N. (1398). History Of Coffee in Iran. Retrieved from https://www.kojaro.com/2016/5/26/119337/Teahouse--History-Iran/
Shalchi, V. (2007). The Lifestyle of The Young People. History of Cultural Research, 93-115.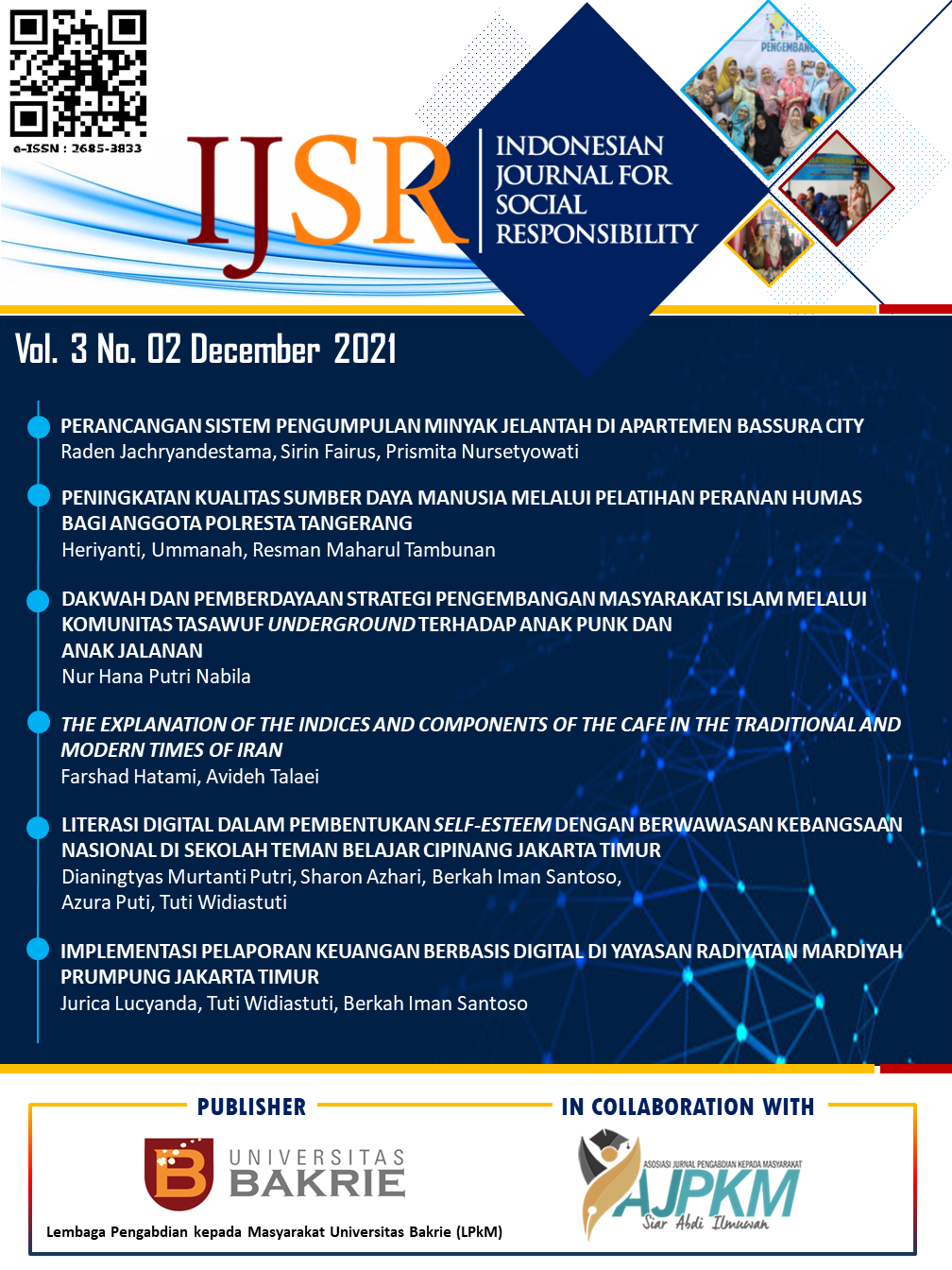 How to Cite
Hatami, F., & Talaei, A. (2021). The Explanation of The Indices and Components of The Cafe in The Traditional and Modern Times of Iran. Indonesian Journal for Social Responsibility, 3(02), 95-112. https://doi.org/10.36782/ijsr.v3i02.76
Copyright (c) 2021 Farshad Hatami, Avideh Talaei
This work is licensed under a Creative Commons Attribution-NonCommercial 4.0 International License.