Komposter Mandiri sebagai Bentuk Pemberdayaan Bank Sampah RW 01 di Kelurahan Cisalak Depok, Jawa Barat
Sirin Fairus

Bakrie University

Mirsa Diah Novianti

Bakrie University

Prismitha Nursetyowati

Bakrie University

Aqil Azizi

Bakrie University
Keywords:
Waste bank, composter mandiri, waste management, 3R Program
Abstract
Waste management is necessary, given the adverse effects on health and the environment. Waste becomes a breeding ground for disease-causing organisms and carriers. Garbage can also pollute the environment and disturb the environmental balance. The first effort in integrated waste management is sorting, starting from sources of waste producers, from households, markets, industries, public facilities, commercial areas, and other sources. Trash has economic value if appropriately managed. Waste can be processed into new energy in various forms, for example, recycled paper or compost.
For this reason, it is necessary to educate the public about preventive measures, limitations of waste generation, procedures for sorting and handling waste from home, and simple waste management techniques such as making waste a useful material. Reduce, reuse, and recycle (3R) activities or limit waste, reuse rubbish and recycle rubbish are all activities that can reduce anything that can cause debris, reuse trash that is fit for use for the same function or other functions, and operations to process waste to be used as new products. The manager of the garbage bank, which is a social mobilizer, has become one of the spearheads in handling the garbage problem in the community. Must be able to be a social mobilizer. The purpose of the activity is to educate residents about the application of the 3R concept through workshops on waste management from home and increase the membership of the garbage bank and to socialize the utilization of "Mandiri Composter," which is applied to members of the garbage bank community. The location of activities in one of the RWs in the Depok area, namely RW 01, Cisalak Village.
Downloads
Download data is not yet available.
References
Azizi A., Kim W., Lee JH. 2016. Comparison of Microbial Communities During the Anaerobic Digestion of Gracilaria Under Mesophilic and Thermophilic Conditions. World J Microbiol Biotechnol, 32:158.
Lee JW., Kwon KK., Azizi A., Oh HM., Kim W., Bahk JJ., Lee, DH. 2013. Microbial Community Structures of Methane Hydrate-Bearing Sediments in the Ulleung Basin, East Sea of Korea. Marine and Petroleum Geology, 47:136–146.
Oh, S. T., Kang, S. J., Azizi, A. 2018. Electrochemical Communication in Anaerobic Digestion. Chemical Engineering Journal, 353: 878-889.
Sugiharti Y., Azizi A., Su'udi M. 2013. Proteins that Interact with Rice Pumilio 1. Science Asia, 39: 615-619.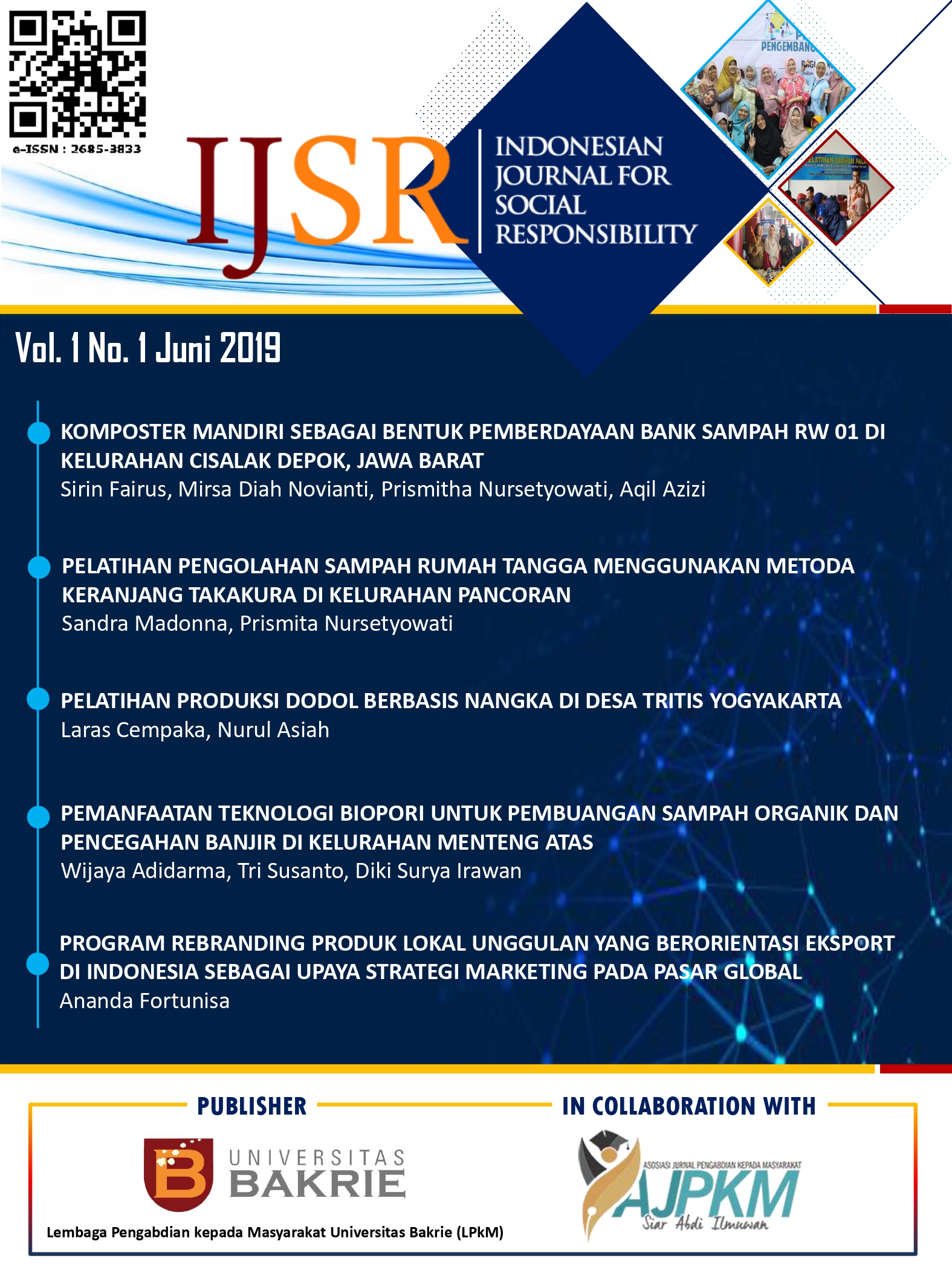 How to Cite
Fairus, S., Diah Novianti, M., Nursetyowati, P., & Azizi, A. (2019). Komposter Mandiri sebagai Bentuk Pemberdayaan Bank Sampah RW 01 di Kelurahan Cisalak Depok, Jawa Barat. Indonesian Journal for Social Responsibility, 1(01), 1-8. https://doi.org/10.36782/ijsr.v1i01.8