Pendampingan Penyusunan Standar Operasional Prosedur (SOP) Pengembangan Program Bapak Angkat Dinas PPKUKM DKI Jakarta
Tri Susanto

Universitas Bakrie

Mirsa Diah Novianti

Universitas Bakrie

Adi Budipriyanto

Universitas Bakrie
Keywords:
Foster Father's, Partnerschaft, Small-Medium Enterprise, Standard Operating Procedure
Abstract
This assistance activity in the preparation of Standard Operating Procedures (SOP) of Foster Father's Program a community service activity that aims to produce a draft SOP of Foster Father's Program at the Industry and Trade Office of Small and Medium Enterprise Cooperatives (PPKUKM) of DKI Jakarta Province, as well as improving understanding related to the theory, principles, and techniques for preparing SOP in accordance with government regulations. A SOP is a written manual. Participants of this activity came from 5 private universities in Jakarta and one of them was Bakrie University which together with the PPKUKM Office actively participated in the SOP development socialization event in March 2021 using mentoring methods. The activity of preparing the SOP for the Development of Foster Father's Program begins with the activity of compiling and collecting materials, after which the material or material activities, then continued by formulating the Operational Standard of The Development Procedure of Development Foster Father's Program.
Downloads
Download data is not yet available.
References
Asbeni, Tihardi, A., & Rusdiono. (2013). Implementasi Sistem Penjaminan Mutu Internal Perguruan Tinggi (Suatu Studi Tentang Standar Operasional Prosedur) Di Politeknik Negeri Sambas. Jurnal Program Magister Ilmu Sosial Universitas Tanjungpura, 1(01), 1–19.
Departemen Koperasi dan Pembinaan Pengusaha Kecil. (1993). Pelatihan Perkoperasian Bagi Pengurus Koperasi/KUD. Jakarta.
Erizal, Y. (2011). Analisa Pelaksanaan Kemitraan Anak Angkat Bapak Angkat (ABA) dalam Usaha Agribisnis Kelapa Sawit di PT. GMP Kec. Pasaman Kabupaten Pasaman Barat [Skripsi]. Universitas Andalas, Padang.
Maulidya, S. (2019). Implementasi Corporate Social Responsibility (Studi Atas Program Kemitraan dan Bina Lingkungan) di PT. Pupuk Kujang [Skripsi]. Universitas Islam Negeri Syarif Hidayatullah, Jakarta.
Nuraeni, Y. (2010). Perancangan Sistem Informasi Penjamian Mutu Perguruan Tinggi Bidang Sumber Daya Manusia. Journal of Information Systems, 6(1), 32–43.
Rasul, S. (2008). Penerapan Manajemen Berbasis Kinerja dalam Pemberantasan Korupsi. Jurnal Hukum Pro Justitia, 26(1), 52-67.
Sidabutar, V. T. P. (2020). Kajian Penerapan Corporate University dalam Pengembangan Kompetensi Sumber Daya Manusia Aparatur Sipil Negara. Jurnal Ilmu Pemerintahan Widya Praja, 46(1), 255-270.
Sudaryanto, Ragimun, & Wijayanti, R. R. (2013). Strategi Pemberdayaan UMKM Menghadapi Pasar Bebas ASEAN. Jakarta: Pusat Kebijakan Ekonomi Makro, Badan Kebijakan Fiskal, Kementerian Keuangan.
Tambunan, I. B. (2020). Pelaksanaan Standar Operasional Prosedur Pemesanan Makanan Di Prime Steak House Fine Dining Restoran JW Marriott Hotel Medan. Jurnal Ilmiah Akomodasi Agung, 7(2), 50-57.
Undang-Undang Nomor 5 Tahun 1984 Tentang Perindustrian. 29 Juni 1984. Lembaran Negara Republik Indonesia Tahun 1984 Nomor 22. Jakarta.
Wahyudi, A. (2018). Edupreneurship sebagai Strategi Daya Saing Usaha Mikro, Kecil, dan Menengah di Jawa Timur Menghadapi MEA. Accounting and Management Journal, 1(1), 55-62.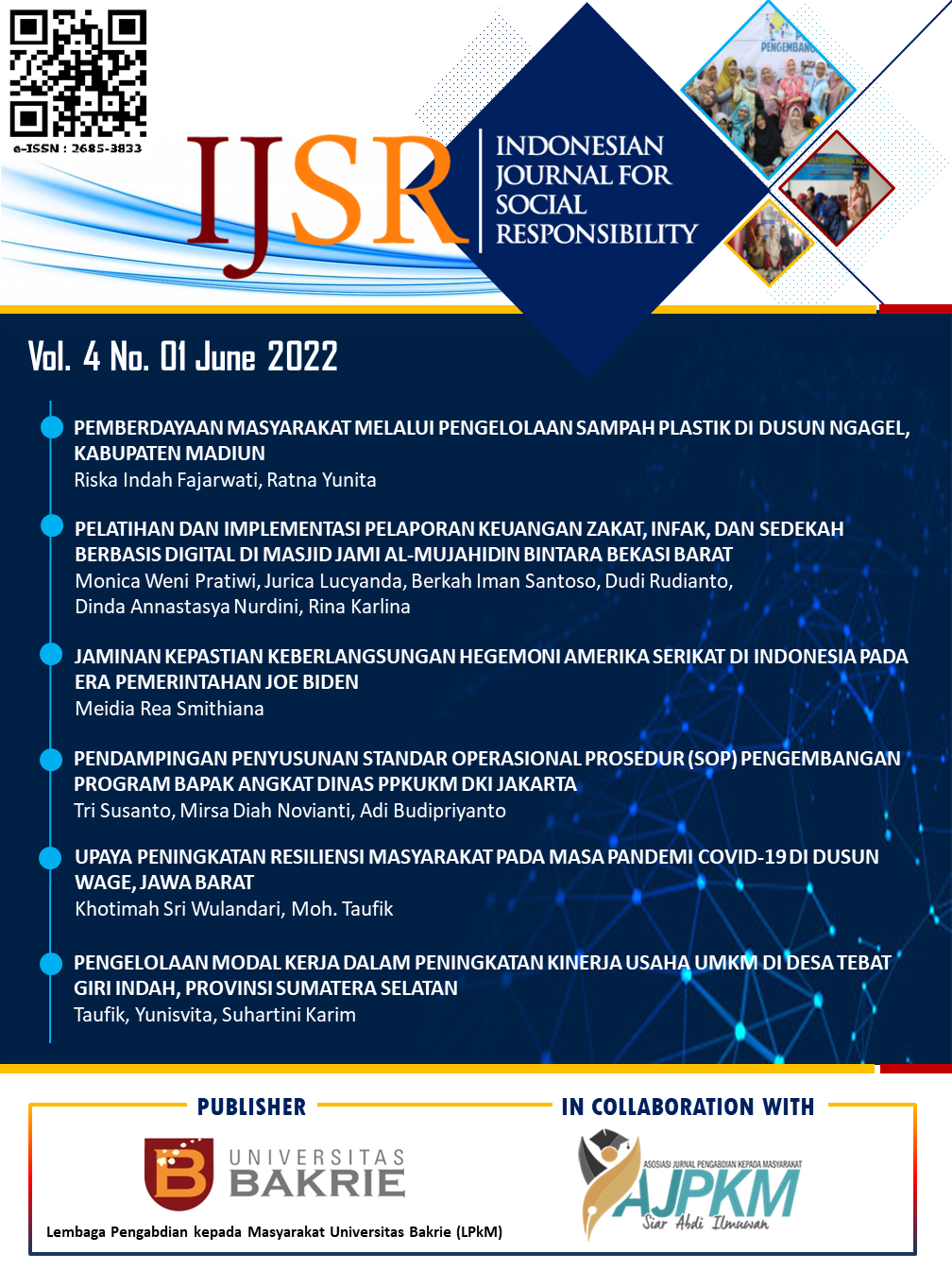 How to Cite
Susanto, T., Novianti, M. D., & Budipriyanto, A. (2022). Pendampingan Penyusunan Standar Operasional Prosedur (SOP) Pengembangan Program Bapak Angkat Dinas PPKUKM DKI Jakarta. Indonesian Journal for Social Responsibility, 4(01), 41-50. https://doi.org/10.36782/ijsr.v4i01.117
Copyright (c) 2022 Tri Susanto, Mirsa Diah Novianti, Adi Budipriyanto
This work is licensed under a Creative Commons Attribution-NonCommercial 4.0 International License.