Pelatihan Peningkatan Kapasitas Stakeholder dalam Menyusun Strategi City Branding
Prima Mulyasari Agustini

Universitas Bakrie

Tuti Widiastuti

Universitas Bakrie
Keywords:
Banda Aceh, City Branding, City Image, Stakeholder, Strategy
Abstract
Brand is an important concept in the marketing of products, booth goods and services. Giving a city a brand is needed to provide an identity for the city. With a strong brand, a city can "sell itself" and open up more extensive employment opportunities, both through tourism excellence (culinary, tourism, handicraft, arts, and culture), as an education center, as well as industry excellence that has the potential to attract investors inside and outside country. Banda Aceh, which is reported strictly with Islamic values, often makes this city unworthy of being a tourist destination. By promoting Islamic tourism, Banda Aceh still lacks in tourist arrivals, though many of Banda Aceh's culture and tourist destinations are fascinating to visit. Given the importance of communicating the superiority of destination related to Banda Aceh, stakeholder training needs to be developed in developing a city branding strategy. Stakeholders have an essential role in promoting the image of the city, primarily through various media. This training focuses on providing insights and knowledge, as well as skills in developing attractive and effective city branding strategies through multiple media to communicate the image of Banda Aceh.
Downloads
Download data is not yet available.
References
Bicakci, AB dan Z Genel. (2016). A Theoretical Approach for Sustainable Communication in City Branding Multilateral Symmetrical Communication Model. IGI Global Publisher of Timely Knowledge.
Hartono, Erfan., Dian Prima Safitri, dan Firti Kurnianungsih. (2019). Peran Pemerintah Daerah dalam Membangun City Branding di Kota Tanjung Pinang (Studi Kasus Kampung Pelangi). Spirit Publik, 14 (2), 103-110.
Kavaratzis, Michalis. (2014). Rethinking Place Branding: Comprehensive Brand Development for Cities and Regions. Switzerland: Springer.
López, J. Martínez Rafael Anaya, Rocio Aguilar, and Sebastián Molinillo. (2016). Online Brand Communities: Using the Social Web for Branding and Marketing. Switzerland: Springer.
Maulana, Amalia E. (2012). Mengubah Just Friend menjadi Soulmate. Jakarta: Etnomark Consulting.
Moilanen, Teemu dan Seppo Rainisto. (2009). How to Brand Nations, Cities an Destinations. Palgrave Macmillan.
Pramuningrum, Annisa Dwi dan Dini Salmiyah Fithrah Ali. (2017). Strategi City Branding Humas Pemerintahan Kota bandung sebagai Smart City melalui Program Smart Governance. Promedia, 3 (2), 162-182.
Saleh, Rahmat dan Nur Anisah. (2019). Pariwisata Halal di Acceh: gagasan dan Realitas di Lapangan. Sahafa journal of Islamic Communciation, 1 (2), 79-92.
Saputra, Eko. (2016). Peran Dinas Pariwisata Ekonomi Kreatif, Komunikasi dan Informatika dalam mengelola "Branding" Kota Samarinda. Jurnal Ilmu Komunikasi Universitas Mulawarman, 4 (2), 321-335.
Setiawati, Sri Dewi, Maya Retnasari, dan Diny Fitriawati. (2019). Strategi Membangun Branding bagi Pelaku Usaha Mikro Kecil Menengah. Jurnal Abdi Mas BSI, 2 (1), 125-136.
Subarkah, Alwafi Ridho, Junita Budi Rahman dan Akim. (2020). Destination Branding Indoensia sebagai Destiansi Wisata Halal. Jurnal Kepariwisataan: Destinasi, Hospitalitas dan Perjalanan, 4 (2), 84-97.
Sukmadewi, Rani dan Nurillah Jamil Achmawati Novel. (2019). Analisis Relevansi City Branding Kota Bandung Melalui Pendekatan Nilai Indeks Kebahagiaan. Reponsive, 2 (3), 83-93.
Sukmaraga, Ayyub Ashari dan Aditya Nirwama. (2016). City Branding: Sebuah Tinjuan Metodologis dengan Pendekatan Elaboratif, Praktis, dan Ilmiah. Journal of Art, Dedsign, Art Education & Cultural Studies, 1 (1), 1-19.
Susanti, Rifda Amalia. (2018). Strategi City Branding Pekalongan "World's City of Batik". Jurnal Seni Budaya, 16 (1), 96-110.
Widodo, Bambang dan Mite Setiansah. (2014). Strategi Pencitraan Kota (City Branding) Berbasis Kearifan Lokal (Studi Kasus di Kota Solo, Jawa Tengah dan Kabupaten Badung Bali). Jurnal Profetik, 7 (2), 33-44.
Yuli, Aditya. (2011). City Branding sebagai Strategi Pengembangan Pariwisata ditinjau dari Aspek Hukum Merek (Study Kasus City Branding Daerah Istimewa Yogyakarta sebagai Daerah Tujuan Wisata Unggulan di Indonesia). Jurnal Ilmiah Ilmu Hukum QISTI, 5 (1), 50:68.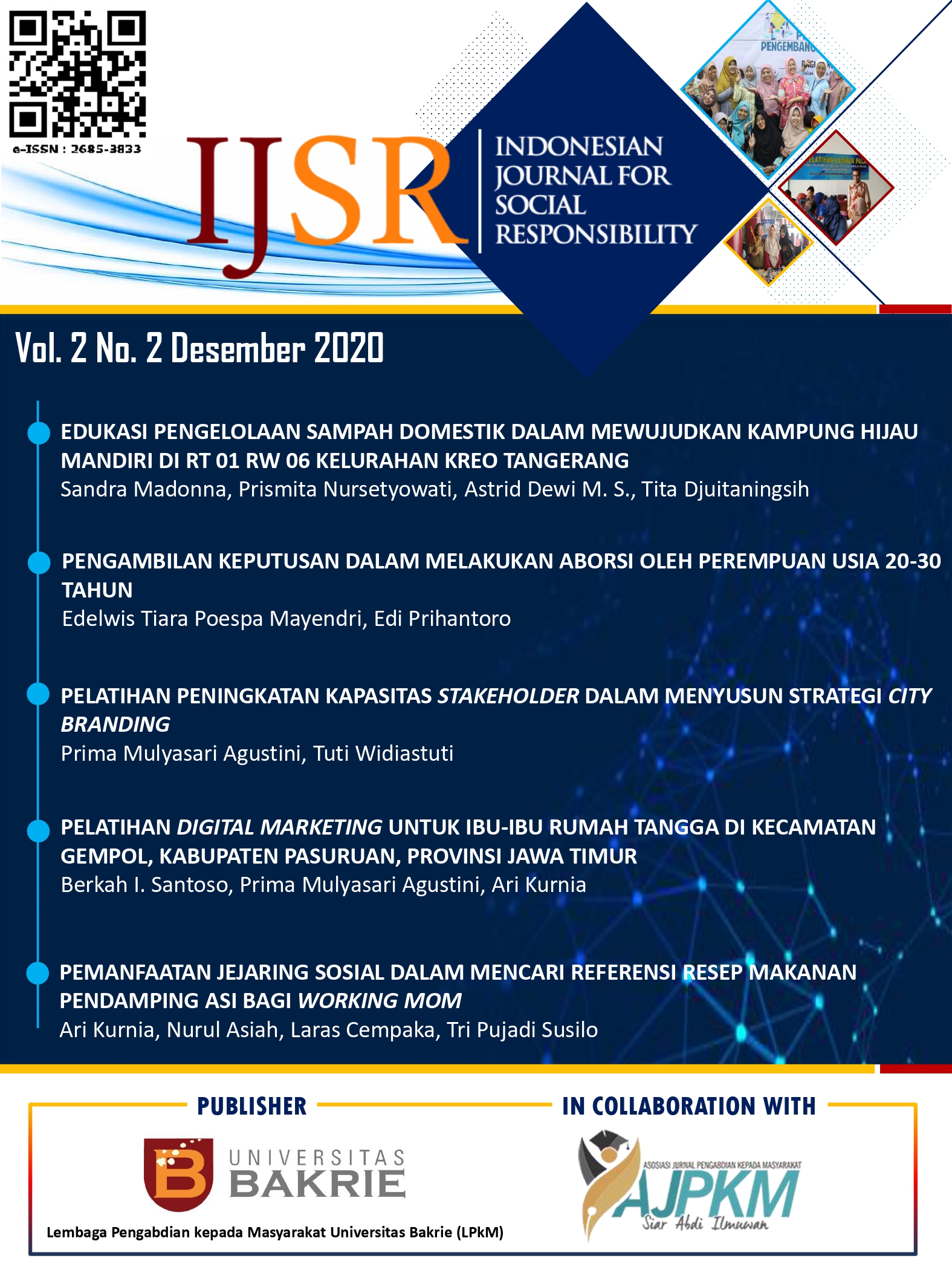 How to Cite
Mulyasari Agustini, P., & Widiastuti, T. (2020). Pelatihan Peningkatan Kapasitas Stakeholder dalam Menyusun Strategi City Branding . Indonesian Journal for Social Responsibility, 2(2), 81-92. https://doi.org/10.36782/ijsr.v2i2.26