Program Rebranding Produk Lokal Unggulan yang Berorientasi Eksport di Indonesia sebagai Upaya Strategi Marketing pada Pasar Global
Ananda Fortunisa

Universitas Bakrie
Keywords:
rebranding, marketing strategy, online marketing, export, local product
Abstract
Brand development (rebranding) is a marketing strategy by renewing or renewing the total name, tagline, symbol, design created for the brand with the aim of developing and renewing in the minds of consumers, investors and developers. Rebranding is an effort or effort made by a company or institution to totally change or renew a brand that has been made to be better, with which cannot achieve the initial goal of a profit-oriented company. The benefit of rebranding, Larslong (2004) in Liminto (2010: 37) is that branding is not just the design of a company logo. Branding is the relationship between consumers and companies, between consumers and products or between consumers and services. This activity aims to improve the competitiveness of Indonesian products through brand enhancement and development to be more easily marketed and be able to improve the image and trust of Indonesian products in the international market. The purpose of this activity is to provide stakeholders with an understanding of the importance of brand development as part of efforts to improve the competitiveness and selling value of a product, as well as facilitate business development to build its brand in the form of structuring brand identity (logos), applications in the form of promotional materials and product packaging. Location of the activities in 6 cities, Bandar Lampung, Ambon, Yogyakarta, Pekalongan, Sukabumi, and Bandung were conducted in the second semester of 2018.
Downloads
Download data is not yet available.
References
Aker, D. A. 2016. Managing Brand Equity. Canada: Pearson International Ed.
Badan Pusat Statistik. Tabel Perkembangan UMKM pada Periode 1997 -2013 [internet]. [Diakses pada 29 Mei 2019]. Tersedia pada: www.bps.go.id
Dodson, I. 2016. The Art Digital Marketig: The Definitive Guide to Creating Strategic, Targeted and Measurabel Online Campaigns. New-York: Wiley Publisher.
Kapfere, J.N. 2012. The New Strategic Brand Management: Advanced Insights and Strategic Thinking (New Strategic Brand Management: Creating & Sustaining Brand Equity). London: Kogan Page.
Keller,L.K. 2016. Strategic Brand Management. Canada: Pearson International Ed.
Kementerian Perdagangan Republik Indonesia. Usaha Mikro, Kecil, dan Menengah (UMKM) dan Usaha Besar [internet]. [Diakses pada 29 Mei 2019]. Tersedia pada: www.kemendag.go.id
Kotler, P. 2016. Marketing Management. USA: Pearson Higher Ed.
Kotler, P., Amstrong, G. 2017. Principle of Marketing. USA: Pearson Higher Ed.
Mihardja, E. J., Widiastuti, T., Agustini, P. M., Adriati, F. 2018. The longest sunset of the South Sulawesi: coastal resource utilization as city branding Pinrang. IOP Conf. Series: Earth and Environmental Science 216(2018): 1-4.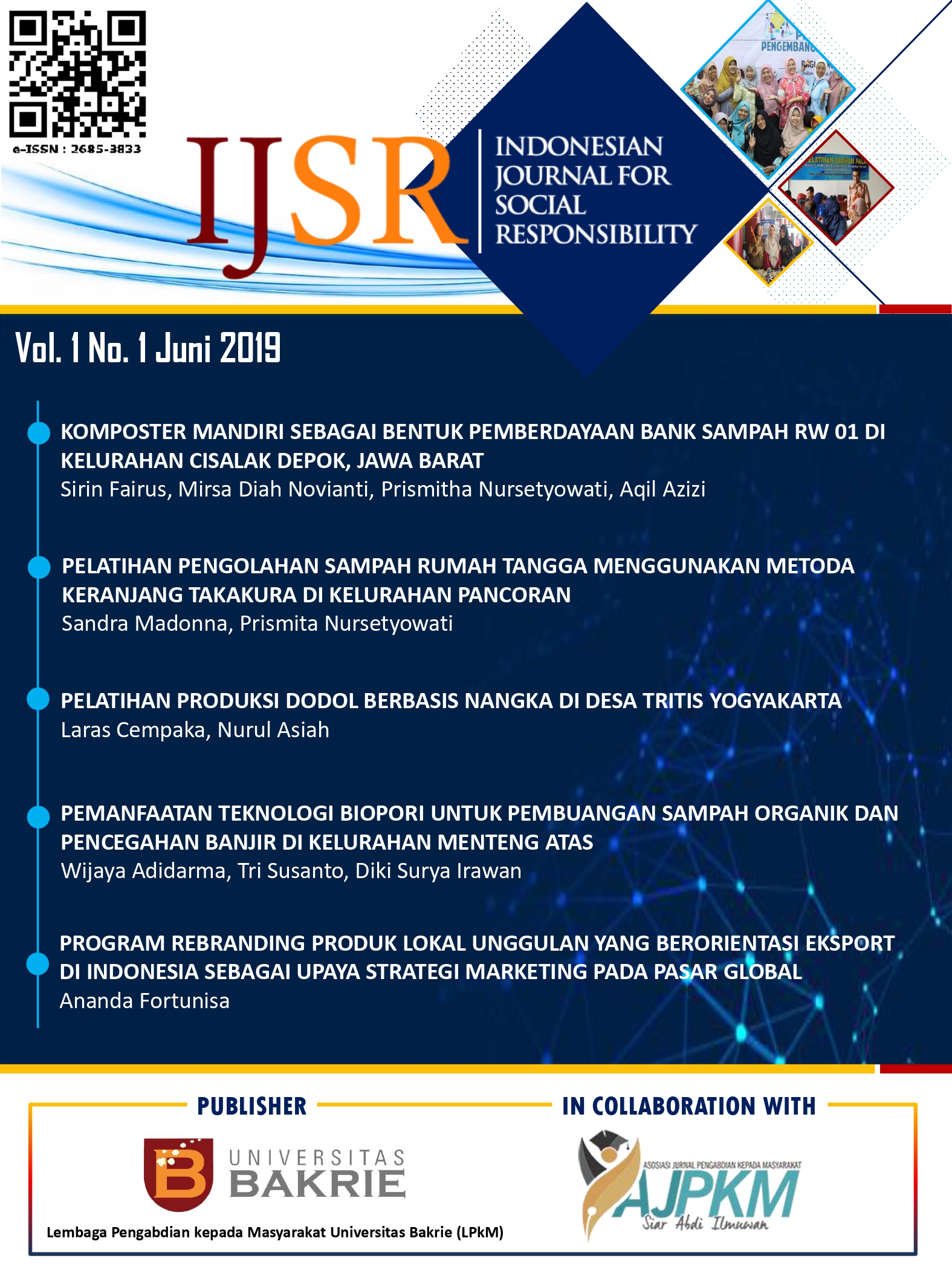 How to Cite
Fortunisa, A. (2019). Program Rebranding Produk Lokal Unggulan yang Berorientasi Eksport di Indonesia sebagai Upaya Strategi Marketing pada Pasar Global. Indonesian Journal for Social Responsibility, 1(01), 41-59. https://doi.org/10.36782/ijsr.v1i01.9