Implementasi Desain Tempat Sampah Ergonomis di PT Pacific Place Mall
Prismita Nursetyowati

Universitas Bakrie

Raden Jachryandestama

Universitas Bakrie

Gunawarman Hartono

Universitas Bakrie

Annissa Fanya

Universitas Bakrie

Almindo Vabiano

Universitas Bakrie

Salwa Safira

Universitas Bakrie

Kadek Kurnia Dewi

Universitas Bakrie
Keywords:
Ergonomics, Pacific Place, Waste Bins, Waste Sorting
Abstract
One of the biggest contributors to the waste that goes into the Bantargebang TPST comes from areas and companies in DKI Jakarta. Therefore, the DKI Jakarta Government passed Governor Regulation No. 102 of 2021 concerning Obligations for Waste Management in Areas and Companies. With this Governor's Regulation, the waste bins not only meet the Governor's Regulation criteria but also must meet ergonomic standards to facilitate the sorting process. Pacific Place is one of the areas whose existing waste bins did not meet the criteria set by the Governor's Regulation, and segregation at the source was still ineffective, so it still must be re-sorted. As part of the Community Service, the team designed and provided ergonomic waste bins for sorting and provided socialization of a sorting system according to the Governor's Regulation. Prior to manufacturing ergonomic bins, a series of Focus Group Discussions (FGD), independent work, waste sampling, prototype trials, and socializations were carried out. Ergonomic waste bins have been designed according to Pacific Place requirements and comply with the Governor Regulation regulations and have high waste segregation efficiency with a 95-100% waste capture rate and 0-5% waste contamination rate for each type of waste bin tested: easy to decompose, recyclables and residue. The final product will be implemented in high-traffic areas so that it can also be an educational tool for Pacific Place visitors. With this implementation, Pacific Place is expected to contribute to reducing greenhouse gases from DKI Jakarta's solid waste sector and implementing the Sustainable Development Goals (SDGs).
Downloads
Download data is not yet available.
References
Balderas, B. J., Cabilzo, R. D., Zuñiga, M. Y., & Sedilla, K. (2020). Improving Garbage Receptacles: Designing an Affective Garbage Receptacle that Influences Human Behavior Towards Littering. Advances in Intelligent Systems and Computing, 952, 391–401.
Jiang, Q., Leeabai, N., Dilixiati, D., & Takahashi, F. (2021). Perceptive Preference Toward Recycling Bin Designs: Influential Design Item Depending on Waste Type, The Impact of Past Perception Experiences on Design Preference, and The Effect of Color Design on Waste Separation. Waste Management, 127, 130–140.
Joes, S., Candra, C. D., Larsen, H., Marchello, D., Daywin, F. J., Gozali, L., Widodo, L., Salomon, L. L., & Irawan, A. P. (2021). The Design Development of an Ergonomic Public Trash Bin for COVID-19 Medical Mask Waste. Proceedings of the 11th Annual International Conference on Industrial Engineering and Operations Management Singapore, 2756-2769.
Kementerian Perencanaan Pembangunan Nasional/Badan Perencanaan Pembangunan Nasional (BAPPENAS). (2020). Metadata Indikator Tujuan Pembangunan Berkelanjutan (TPB)/Sustainable Development Goals (SDGs) Indonesia Edisi II. Jakarta: Kementerian Perencanaan Pembangunan Nasional/Badan Perencanaan Pembangunan Nasional (BAPPENAS).
Leeabai, N., Areeprasert, C., Khaobang, C., Viriyapanitchakij, N., Bussa, B., Dilinazi, D., & Takahashi, F. (2021). The Effects of Color Preference and Noticeability of Trash Bins on Waste Collection Performance and Waste-Sorting Behaviors. Waste Management, 121, 153–163.
Lian, H., Wang, D., & Li, H. (2020). Waste Sorting and Its Effects on Carbon Emission Reduction: Evidence from China. Chinese Journal of Population, Resources and Environment, 18(1), 26–34.
Lizhen, L. (2018). Research on Environmentally-friendly Trash Bin Sorting Design Based on Human Factors Experiment. Industrial Engineering and Innovation Management, 1, 17–25.
Musthofa, N. H., Suhardi, B., & Astuti, R. D. (2015). Perancangan Desain Tempat Sampah Dengan Metode QFD di Universitas Sebelas Maret. Prosiding Seminar Nasional Sains dan Teknologi, 1(1), 41-45.
Pemerintah Republik Indonesia. (2022, September 23). Enhanced Nationally Determined Contribution Republic of Indonesia. United Nation Climate Change. Diakses dari https://unfccc.int/sites/default/files/NDC/2022-09/23.09.2022_Enhanced%20NDC%20Indonesia.pdf
Peraturan Gubernur Daerah Khusus Ibukota Jakarta Nomor 102 Tahun 2021 Tentang Kewajiban Pengelolaan Sampah di Kawasan dan Perusahaan. 8 Desember 2021. Jakarta.
Peraturan Gubernur Daerah Khusus Ibukota Jakarta Nomor 113 Tahun 2021 Tentang Penjenamaan Jakarta Sadar Sampah. 23 Desember 2021. Jakarta.
Rousta, K., & Bolton, K. (2019). Sorting Household Waste at The Source. In Sustainable Resource Recovery And Zero Waste Approaches. Elsevier.
Soewardi, H., Dila Sari, A., & Aktoba, R. (2017). Ergonomic Partisipatory Approach for Designing the Innovative Trash Bin. International Journal of Applied Engineering Research, 12(24), 14510-14513.
The University of Maine. (2023). Color Contrast Ratios – Accessibility Guide. University of Maine System. Diakses dari https://www.maine.edu/Content-Management/Accessibility/Color-Ratio/?repeat=w3tc#:~:Text=Color%20Contrast%20Ratios%20Guidance&text=Whenever%20using%20color%20in%20images,Who%20may%20have%20color%20blindness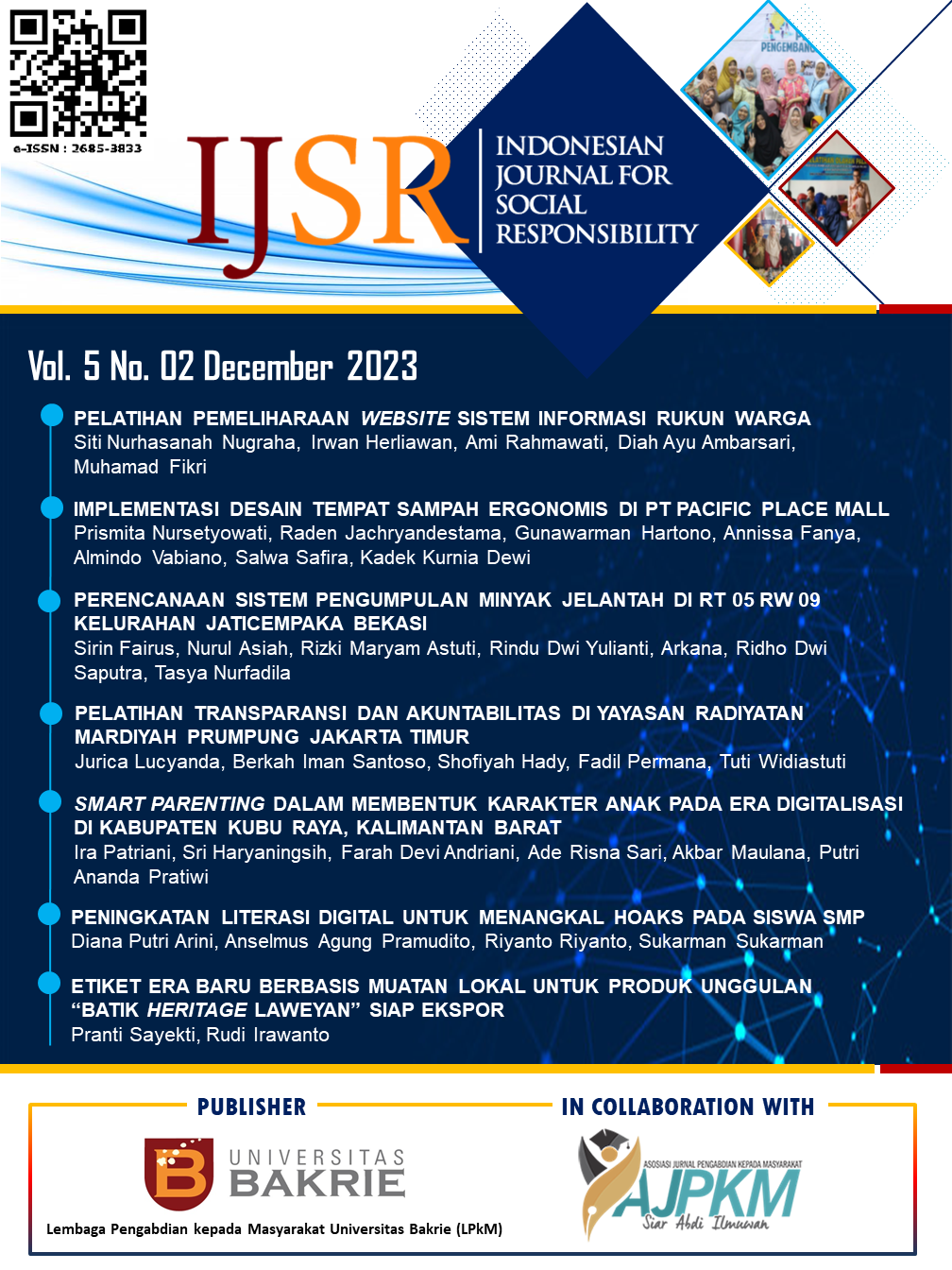 How to Cite
Nursetyowati, P., Jachryandestama, R., Hartono, G., Fanya, A., Vabiano, A., Safira, S., & Kurnia Dewi, K. (2023). Implementasi Desain Tempat Sampah Ergonomis di PT Pacific Place Mall. Indonesian Journal for Social Responsibility, 5(02), 77-91. https://doi.org/10.36782/ijsr.v5i02.219
Copyright (c) 2023 Prismita Nursetyowati, Raden Jachryandestama, Gunawarman Hartono, Annissa Fanya, Almindo Vabiano, Salwa Safira, Kadek Kurnia Dewi
This work is licensed under a Creative Commons Attribution-NonCommercial 4.0 International License.