Perancangan Sistem Pengumpulan Minyak Jelantah di Apartemen Bassura City
Raden Jachryandestama

Universitas Bakrie

Sirin Fairus

Universitas Bakrie

Prismita Nursetyowati

Universitas Bakrie
Keywords:
Biodiesel, Supply Chain, Used Cooking Oil, Waste Cooking Oil
Abstract
Used cooking oil are oils that have been used for cooking in restaurants, hotels, food industries, and households. They are dangerous waste when inappropriately disposed since it can interrupt the sewer system or be illegally reprocessed. To combat the issue, the government of Jakarta designed the UCO to Biodiesel supply chain in the Governor's Regulation number 167 of 2016. However, it has yet to manage households despite potentially producing 210.465,31 litres of UCO per day. The goal of this community service is to create a collection system and to increase awareness of the dangers and potential of UCO in Bassura City Apartment, located in East Jakarta, which did not have UCO collection system. The collection system considers sustainability in terms of not only the environment but also social and economic. The community service is split into five steps: creating local partnerships, supply chain planning, awareness raising by socialization, monitoring and evaluation. Local partnership was created between the local mosque Al-Falah as local UCO collector, BeliJelantah the medium sized UCO collector, and Universitas Bakrie. UCO collected by Al-Falah is bought by BeliJelantah at a rate of Rp4,000.00 /litre. BeliJelantah provides basic equipment such as jerrycans and sieve. Socialization was partially done regularly before sermon and online due to Covid-19 restrictions. Since the implementation of the collection system, Al-Falah mosque has collected 33 Litres which was converted into Rp134,000.00. Sustainability of the collection of used cooking oil will be carried out by residents and the DKM Masjid in direct coordination with BeliJelantah by taking a minimum of 2 jerrycans with a volume of 18 litre or the equivalent of 36 litre. This system can be scaled up by increasing partnerships with more local groups and local management.
Downloads
Download data is not yet available.
References
Filip, G. M., & Brezoczki, V. M. (2019). About Used Cooking Oil – Social Aspects From Baia Mare Town. Scientific Bulletin Series D: Mining, Mineral Processing, Non-Ferrous Metallurgy, Geology and Environmental Engineering, 33(1), 31–37.
Gkouskos, Z. K., Tournaki, S. K., Giamalaki, M. P., & Tsoutsos, T. D. (2018). From Used Cooking Oil to Biodiesel. Full Supply Chain Demonstration. Conference on Renewable Energy Sources & Energy Efficiency, 376–385.
Granfelt, S. A. (2017). Process Flow Documentation A Flowchart Guide For Micro & Small Business. Elsevier.
Peraturan Gubernur Provinsi Daerah Khusus Ibukota Jakarta Nomor 167 Tahun 2016 Pengelolaan Limbah Minyak Goreng. 26 Agustus 2016. Jakarta.
Jachryandestama, R., Nursetyowati, P., Fairus, S., & Pamungkas, B. (2021). Risk Analysis in Jakarta's Waste Cooking Oil to Biodiesel Green Supply Chain Using Group Ahp Approach. Sinergi, 25(2), 227-236.
Jayakumar, A. A. (2017). A Review of Mathematical Models for Supply Chain Network Design. International Journal of Innovative Research in Advanced Engineering, 12(4), 2349–2163.
Kharina, A., Searle, S., Rachmadini, D., Kurniawan, A. A., & ... (2018). The Potential Economic, Health and Greenhouse Gas Benefits of Incorporating Used Cooking Oil into Indonesia's Biodiesel. Washington: The International Council on Clean Transportation.
Kurnia, R., & Hadiguna, R. A. (2016). Penentuan Prioritas Risiko pada Rancangan Rantai Pasok Biodiesel dari Minyak Goreng Bekas di Kota Padang. Jurnal Rekayasa Sistem Industri, 5(1), 15-25.
Zhang, H., Aytun Ozturk, U., Wang, Q., & Zhao, Z. (2014). Biodiesel Produced by Waste Cooking Oil: Review of Recycling Modes in China, The US and Japan. Renewable and Sustainable Energy Reviews, 38, 677–685.
Zhang, H., Ozturk, U. A., Zhou, D., Qiu, Y., & Wu, Q. (2015). How to Increase The Recovery Rate for Waste Cooking Oil-to-Biofuel Conversion: A Comparison of Recycling Modes in China and Japan. Ecological Indicators, 51, 146–150.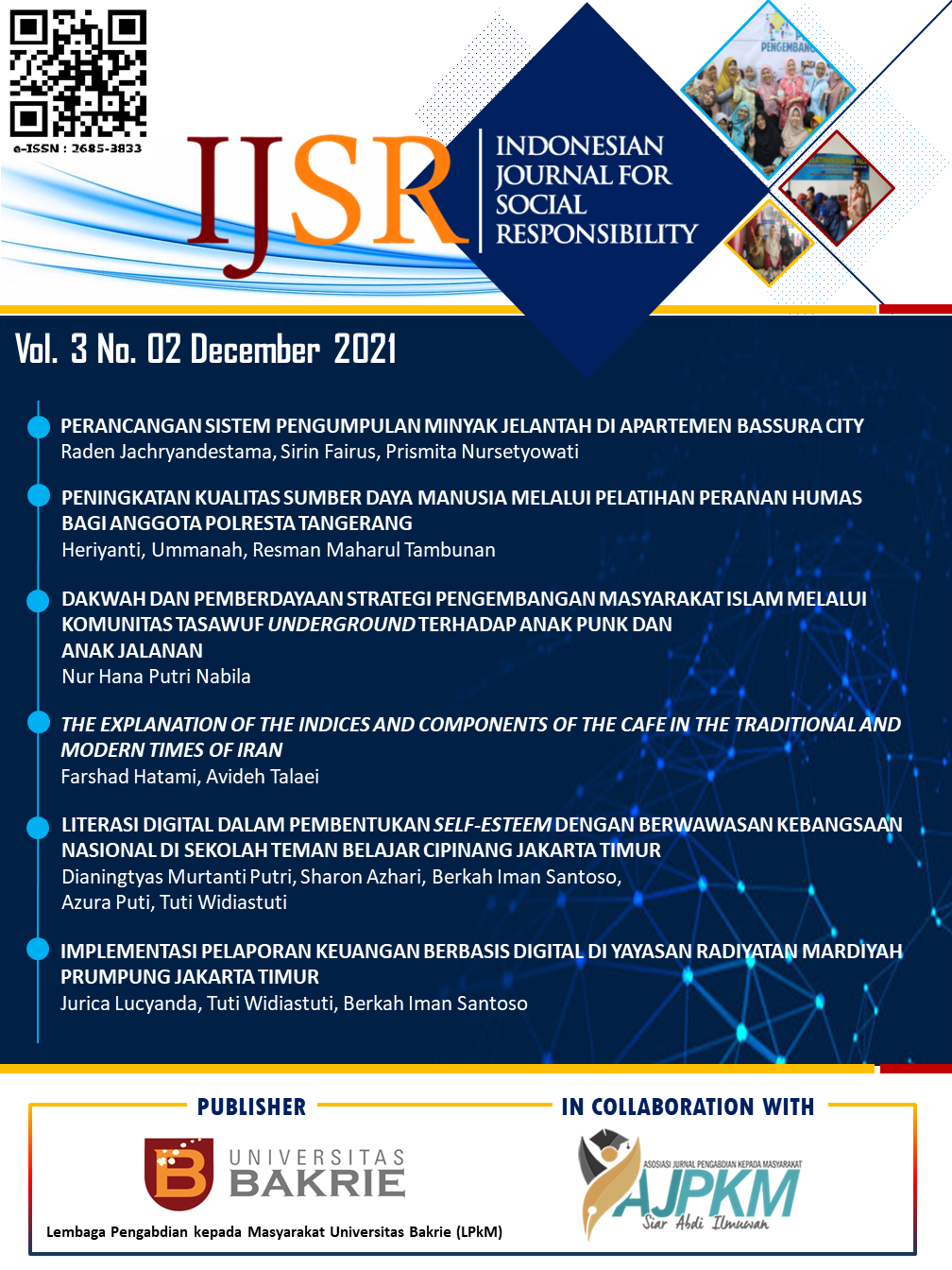 How to Cite
Jachryandestama, R., Fairus, S., & Nursetyowati, P. (2021). Perancangan Sistem Pengumpulan Minyak Jelantah di Apartemen Bassura City . Indonesian Journal for Social Responsibility, 3(02), 65-74. https://doi.org/10.36782/ijsr.v3i02.87
Copyright (c) 2021 Raden Jachryandestama, Sirin Fairus, Prismita Nursetyowati
This work is licensed under a Creative Commons Attribution-NonCommercial 4.0 International License.