Pelatihan Pengolahan Sampah Rumah Tangga Menggunakan Metoda Keranjang Takakura di Kelurahan Pancoran
Sandra Madonna

Universitas Bakrie

Prismita Nursetyowati

Bakrie University
Keywords:
Pancoran Village, Organic Waste, Takakura Basket
Abstract
Pancoran Village is one of the densely populated locations in South Jakarta. The size of the population and the diversity of activities in the Pancoran Sub-district contribute to the increase in the number and problems of waste generation. Organic waste from households dominates waste generation in Indonesia. The generation of organic waste in the Pancoran village has the potential to be managed well. The Composting method using Takakura baskets is very appropriate to be introduced as an appropriate technology in processing organic waste. The problem that occurs at this time is that community participation is still not well-directed and well-organized, there is still a lack of civil society in the waste problem. The potential for household waste to be processed can even be of economic value, but has not been maximally implemented because there is still a lack of motivation and insights from the community in managing waste. The Waste Management Training in the Pancoran village has been carried out which was attended by 20 participants consisting of housewives from several RT representatives on RW 04 Pancoran village, South Jakarta. With the presentation method, the practice of making Takakura baskets, discussion and question and answer. The training for processing household scale waste using Takakura baskets is expected to increase community involvement in the Pancoran Sub-District in managing their waste, and can socialize and motivate other households in the vicinity so that it can be one example of a clean, healthy and waste-free area.
Downloads
Download data is not yet available.
References
Badan Pusat Statistik. 2018. Jakarta Selatan dalam Angka 2018. Jakarta: Badan Pusat Statistik.
Damanhuri, Enri dkk. 2015. Pengelolaan Sampah Terpadu. Bandung: Penerbit ITB.
Japan International Cooperation Agency. Takakura Composting Method. JICA [internet]. [Diakses 28 Februari 2017]. Tersedia pada: https://www.jica.go.jp/ english/our_work/thematic_issues/ management/study_takakura.html
Kementerian Hukum dan Hak Asasi Manusia. 2008. Undang Undang No. 18 Tahun 2008 tentang Pengelolaan Sampah. Jakarta: Kemenkumham.
Soemirat, Juli. 2011. Kesehatan Lingkungan. Yogyakarta: Gadjah Mada University Press.
Tchobanoglous G., Theisen H., Vigil S.A. 1993. Integrated Solid Waste Management. New York: McGraw Hil Inc, NY.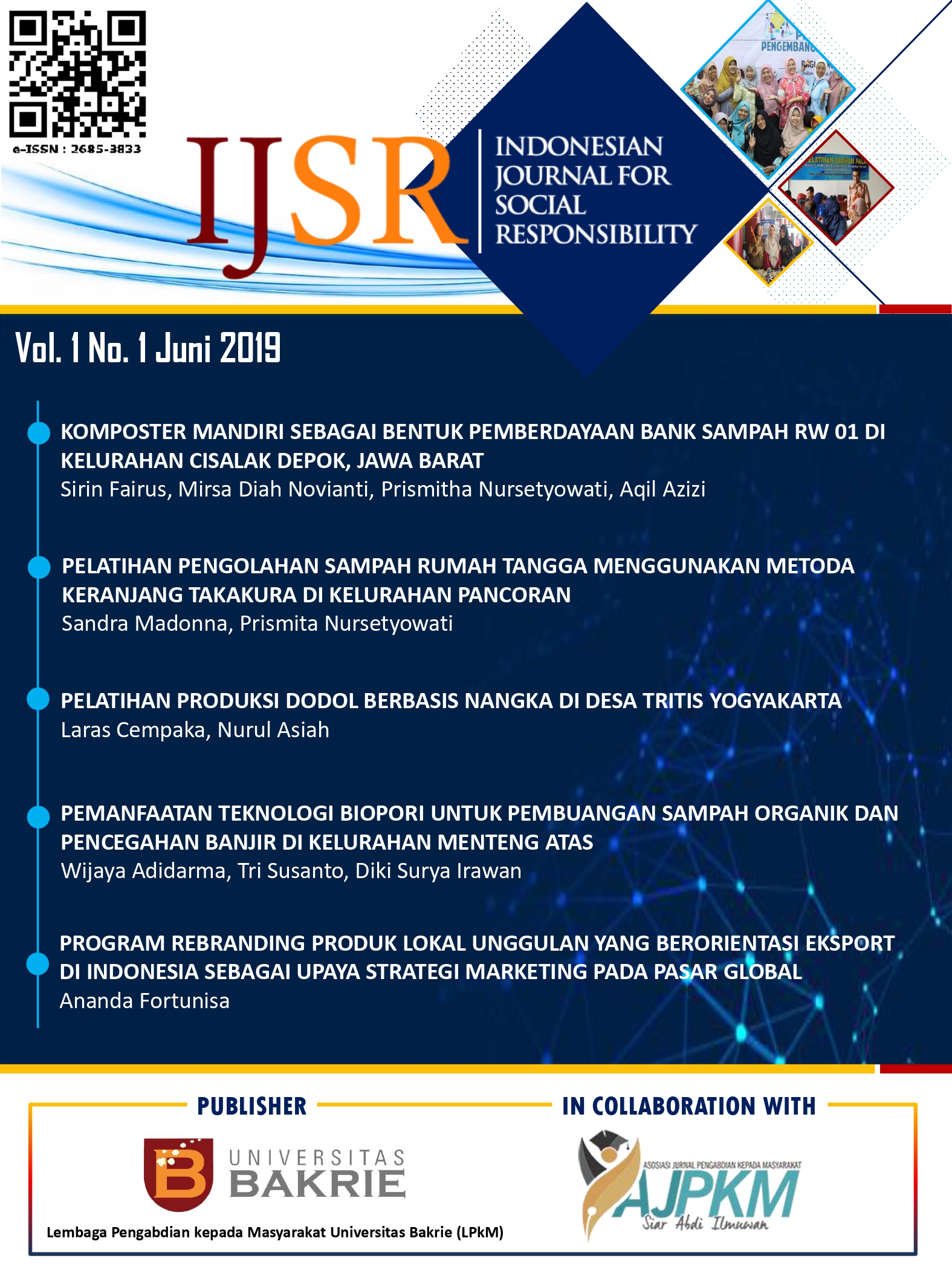 How to Cite
Madonna, S., & Nursetyowati, P. (2019). Pelatihan Pengolahan Sampah Rumah Tangga Menggunakan Metoda Keranjang Takakura di Kelurahan Pancoran. Indonesian Journal for Social Responsibility, 1(01), 9-15. https://doi.org/10.36782/ijsr.v1i01.5