Peran Ibu dalam Berkomunikasi dan Pengelolaan Keuangan Rumah Tangga
Jurica Lucyanda

Bakrie University

Eli Jamilah Mihardja

Bakrie University

Adi Budi Priyanto

Bakrie University
Keywords:
family communication, family manager, managing family finances, the role of housewives
Abstract
This community service activity aims to provide an explanation and understanding related to the role of housewives as family managers in communicating and managing financial within the family. The special purpose of this activity is that mothers in Desa Kejapanan, Gempol, Pasuruan, Jawa Timur, can implement family communication effectively and skillfully in managing finances and making simple financial reports. The community service partners are housewives (women's groups) in Desa Kejapanan, Kecamatan Gempol, Kabupaten Pasuruan, Jawa Timur. The method used in this activity is the presentation of material and discussion/question and answer. Participants of housewives who participated in this activity were 20 people. The implementation of this activity provides understanding and motivates housewives to have good communication to build the closeness of family members and conduct simple financial records to controlling family finances. This is shown from the enthusiasm of housewives in discussions and questions related to household financial management. This community service is expected to be a follow-up activity to become a fostered village by the University of Bakrie to start a small business in order to increase household income in accordance with the condition in their area.
Downloads
Download data is not yet available.
References
Badan Kependudukan & Keluarga Berencana Nasional. (2008). Buku Panduang Pusat Informasi dan Konseling Kesehatan Reproduksi Remaja (PIK KRR). Jakarta: BKKBN.
Friendly. (2002). Komunikasi dalam Keluarga. Jakarta: Family Altar.
Galvin, K. M., Bylund, C., & Brommel, B. J. (2004). Family Communication: Cohesion and Change. Taylor & Francis Group.
Goss, B. J. D. (2001). 11 Top Financial Planning Mistakes and How to Avoid Them. Chiropractic Economic. Chiropractic Economics. Diakses dari https://www.chiroeco.com/article/investments/financial-planningmistake
Gozali, (2002). Rencana Keuangan Keluarga, Seberapa Perlukah. Diakses dari http://www.perencanakeuangan.com.
Hadisubrata. (1990). Keluarga Dalam Dunia Modern. Jakarta: PT. BPK Gunung Mulia.
Kurniadi, O. (2001). Pengaruh komunikasi keluarga terhadap prestasi belajar anak. Mediator: Jurnal Komunikasi, 2(2), 267-290.
Le Poire, B. A. (2006). Family Communication: Nurturing and Control in a Changing World. SAGE Publications, Inc.
Peck, J. C. (1993). Wanita dan Keluarga. Yogyakarta: Kanisius.
Senduk, S. (2000). Mengelola Keuangan Keluarga. Jakarta: PT. Alex Media Komputindo.
Trinaningsih, S. & Widyasari, F. (2010). Manajemen Pengelolaan dan Perencanaan Keuangan Keluarga pada Ibu Rumah Tangga di Kawasan Siwalan Kerto Surabaya. Jurnal Strategi Akuntansi, 2(1): 1-32.
Warren, J. M., Warren, C. S., & Duchac, J. E. (2013). Principles of Accounting, 24th Edition. Singapura: Cengage Learning Asia Pte Ltd.
Yohnson. (2004). Peran Universitas di Surabaya dalam Meningkatkan Jumlah Keluarga Mapan di Surabaya: Seri Penelitian Keuangan Keluarga. Jurnal Manajemen & Kewirausahaan, 6(1), 54-71.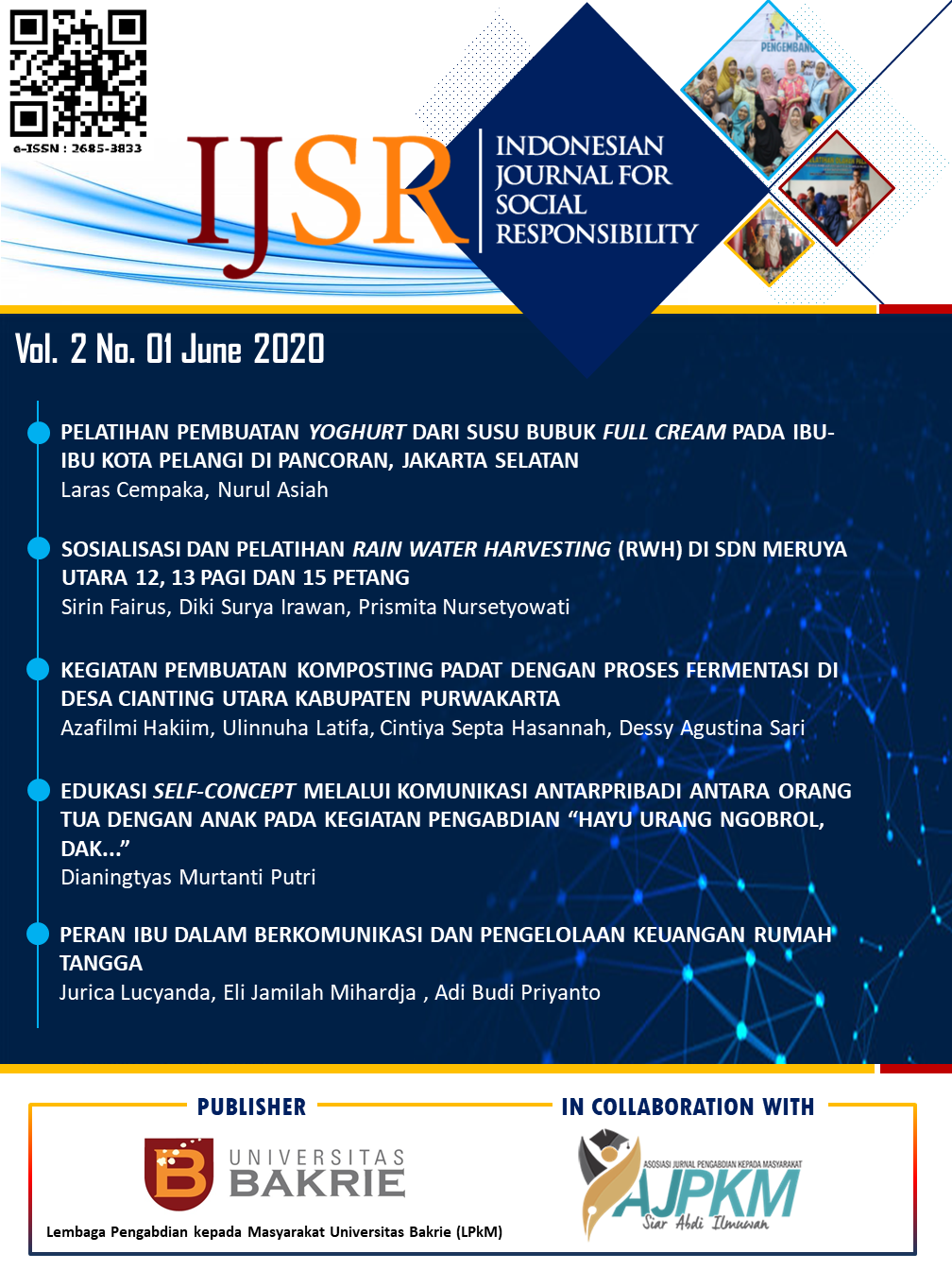 How to Cite
Lucyanda, J., Jamilah Mihardja , E., & Budi Priyanto, A. (2020). Peran Ibu dalam Berkomunikasi dan Pengelolaan Keuangan Rumah Tangga . Indonesian Journal for Social Responsibility, 2(01), 47-58. https://doi.org/10.36782/ijsr.v2i1.22